Mumbai, January 11: Union Minister Smriti Irani has spoken up about harassment and targeting of ace badminton player Saina Nehwal for merely expressing her support for Prime Minister over the security breach in Punjab. Saina was subjected to sexual innuendos by a Bollywood entertainer known as Siddharth.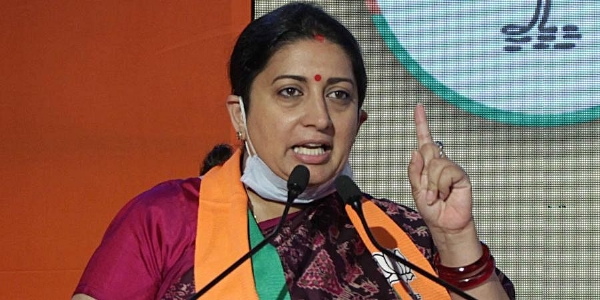 The union minister pointed out the incident while talking about the broader issue of women being denied dignity on social media. She pointed to a tweet on January 6 by actor Siddharth who made "derogatory remarks'' against Saina Nehwal, after she tweeted her support to Prime Minister Narendra Modi following the security breach during his visit to Punjab.
The National Commission for Women (NCW) has since taken cognizance of the actor's tweet and has written to the Maharashtra DGP and to Twitter India to investigate the matter.
Smriti Irani was quoted saying at an event, "Do women get explicitly objectified only through one app? No. As I came to this conversation, I had a world champion, Ms Nehwal, who was demeaned for her political position, no less by a so-called popular actor, a man who would have known better. We need to look at this issue holistically. Are only the men who are caught the ones we need to be concerned about? Or, those who deny a woman the right to speak? Ms Nehwal had a point of view. But she was demeaned and objectified. Should such men be brought to justice as well?"
The actor's obscene remark gathered the wrath of many social media users, who called him out for using such disrespecting language to criticise Nehwal - one of India's most accomplished sportspersons.
Taking serious note of the offence, NCW wrote to DGP Maharashtra to investigate this matter, demanding an FIR to be registered against him. NCW chairperson Rekha Sharma wrote to Resident Grievance Officer, Twitter India to immediately block the actor's account. The NCW has also sent the actor a notice over the tweet. It is up to Twitter to decide whether to block this actor's account or not.