New Delhi, Jan 14: Indian Naval Ships Shivalik and Kadmatt undertook Maritime Partnership Exercise with Japan Maritime Self-Defence Force (JMSDF) Ships Uraga and Hirado in the Bay of Bengal.
Both JMSDF ships are part of Minesweeper Division One and are on deployment to Indian Ocean Region with Captain Noguchi Yasushi, Commander Minesweeper Division One embarked onboard JS Uraga, a Navy release said here.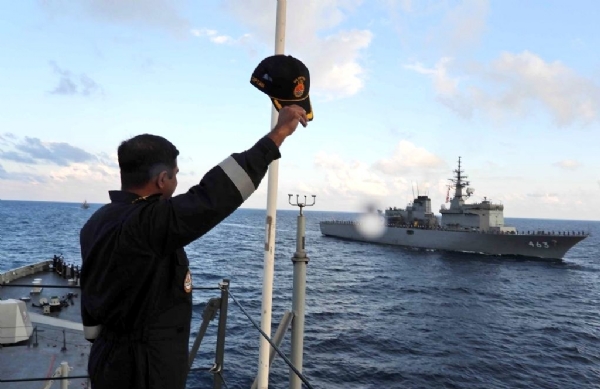 The exercise was aimed at strengthening bilateral relations, promoting defence cooperation, enhancing mutual understanding and inter-operability between the two navies and sharing best practices.
The precision, coordination and high level of interoperability reflected not only the high standards of professionalism and preparedness the two navies maintain to counter threats at sea, but also the high level of trust and understanding that they have built over the years.
Also Read: India, Japan navies completes 3-day JIMEX 2020 in Arabian Sea; Know More-
The complex maritime exercises will enable the two navies to further strengthen their already wide-ranging strategic partnership and, when required, to jointly safeguard their maritime interests and ensure peace, security and stability in the region.
The Maritime Partnership Exercise included a wide range of maritime operations -- Flying Operations, Replenishment Approaches and Tactical Manoeuvres. The entire exercise was planned and conducted in a non-contact mode, thereby adhering to COVID safety norms.