New Delhi, Jan 17: The queen of the Pench Tiger Reserve and the supermom of the 29 cubs, T 25, aka 'Collarwali Baghin' has waved off the wild world on Saturday, leaving behind her legacy. She died of old age.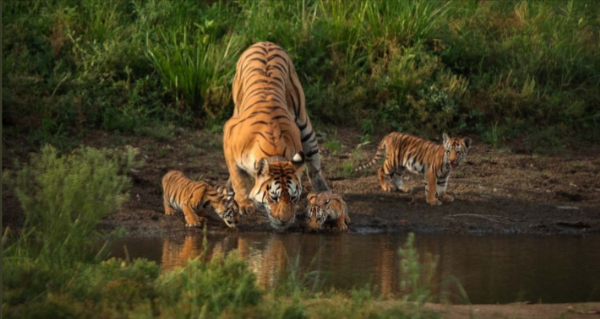 The 16-year-old tigress had been ill for the past two days due to old age. She was last spotted on January 14 near Bhura Dev Nullah. She was lying down there and a large number of tourists spotted her. She was under the observation of veterinary doctors and was unable to walk. The tigress took her last breath at 6.15 PM on Saturday.
Grieving the death of the legendary tigress, the MP home minister, Narottam Mishra, tweeted on Sunday, "Last Salute to Super Mom. Any talk on the prized Tiger State status of Madhya Pradesh will be incomplete without the mention of the important contribution of the Super Mom who gave birth to 29 cubs."
It should be noted that Pench Tiger Reserve is known for the tigress "Collarwali". She was the most popular tigress among tourists. She got her name because she was spotted with a radio collar tied around her neck. She was born to T 7, popularly known as Badimada, and T 1, known as Charger in 2005.
In 2008, when Panna Tiger Reserve in MP only became tiger-less, it was one of the female cubs of Collarwali only, which was sent to Panna for reviving the big cat's population there. She had contributed one percent to India's tiger population.
.
.