Dehradun, Jan 19: After getting expelled by BJP, harak Singh Rawat is all set to join the congress party. But congress party itself is divided over harak Singh Rawat joining.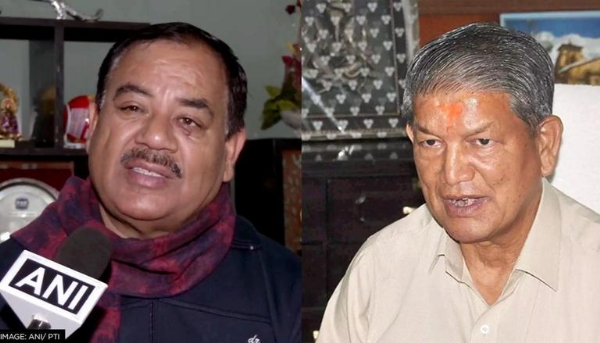 As Congress leaders in Delhi deliberate on his fate, there is a sharp divide in the party's Uttarakhand leadership over the possible return of former cabinet minister Harak Singh Rawat — who was expelled by the Bharatiya Janata Party (BJP) Sunday.
While Harak Singh Rawat has issued an apology for his 2016 defection, the Congress' election campaign head and former Uttarakhand chief minister Harish Rawat and his supporters have vehemently opposed his re-entry into the party.
"I have nothing personal with him (Harak Singh), but what he did along with other defectors in 2016 was anti-Congress, anti-democracy and against the parliamentary traditions of the country and state," Harish Rawat tolda media.
"Harak Singh and other party MLAs defected and tried to dislodge the Congress government with help of BJP. It was a betrayal of the people of Uttarakhand. They ditched the Congress. The party high-command has to keep that in mind before taking any decision on him," he added.
In March 2016, former Uttarakhand CM Vijay Bahuguna left the Congress with eight other MLAs, including Harak Singh, and joined the BJP, leaving the then Harish Rawat government in minority. This was followed by imposition of the President's rule in the state by the Center.
While Harish Rawat was able to prove majority on the floor of the house after the Supreme Court's intervention, the incident led to over two months of political turmoil in the state.
Meanwhile, another group of state leaders, including Leader of Opposition in Uttarakhand assembly Pritam Singh, is in support of the expelled BJP leader's desire to return to the Congress.
Pritam Singh said the final decision will be taken by the party high-command. "It's true that Harak Singh Rawat ditched the party in 2016 but he has also apologised for that," he added.
After his expulsion Sunday, Harak Singh Rawat had said he would now join the Congress. Contacted by ThePrint, All India Congress Committee (AICC) state in-charge Devendra Yadav said: "Harak Singh Rawat has approached us and talks are on with the AICC leadership on his induction in the party. Although Harish Rawat is opposed to the idea, we are trying to resolve the issue in the next 24 hours. He had been with the party in the past."