It was way back on December 29, 1943, when Netaji Subhash Chandra Bose landed at Port Blair aerodrome and met the Japanese Military Commander of the island and on 30th December that year hoisted the Indian tricolour in Andaman Island, thereby fulfilling his promise of hoisting the national flag on Indian soil by 1943.
Netaji renamed Andaman Island as "Shaheed" and Nicobar Island as "Swaraj" and appointed INA General A. D. Loganathan as the Governor of these Islands. But how it was captured from the British Raj? Let us go through the journey!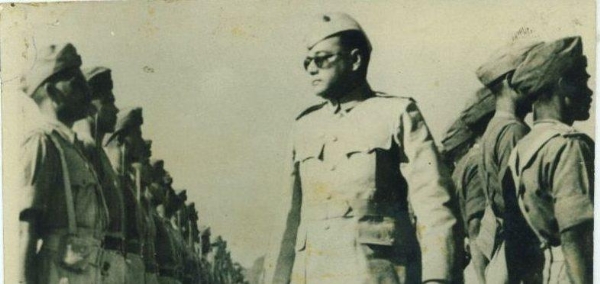 The Andaman and Nicobar islands, an archipelago of islands, situated in the middle of the Bay of Bengal are more than 700 km away from the Indian Mainland but still hold great significance in our independence struggle.
Before independence, the Andaman and Nicobar Islands was just a penal colony with the dreaded prison Kalapani or Cellular jail at its midst. The infamous cellular jail was a place for inhuman torture and confinement of freedom fighters from mainland India and as such Cellular Jail became a symbol of colonial oppression.
Ironically the island of oppression was the first part of Indian land to be liberated. It was in these islands that the tricolour of the nation was hoisted for the first time upon Freed Indian land by Liberated Indians. The Indian National Army was formed in Singapore and the Azad Hind Government was formed. But the Azad Hind Government remained only a Government in Exile with few Division strong volunteer Army. It had no Indian lands under its control. Subhas Chandra Bose had promised the Indian people in Singapore that by 1943 they would be hoisting Indian flag on Indian soil.
A Japanese Naval force captured the Andaman Island unopposed by the British Indian Garrison on the Island. The British garrison surrendered without a fight and all the Indian soldiers were interned and were given a choice of joining the Indian National Army, which many accepted.
All the Political Prisoners were released from Kalapani jail and the British soldiers and officers were jailed or sent to Burma. The capture of Andaman and Nicobar Islands by the Japanese was an important event for the Azad Hind Government as these islands were the first Indian land to be captured by the Axis Forces.
The Azad Hind Government was able to convince the Japanese leaders in handing over the Andaman and Nicobar islands to the Azad Hind Government.