The Constitution of India came into effect on 26 January, 1950 which is celebrated as Republic Day. The day is celebrated with full vigour and enthusiasm emphasizing magnificence of Indian Armed Forces and Military capabilities in Republic Day Parade. Though the Constitution came into force on 26 January, 1950, it was adopted by Indian Constituent Assembly on 26 November, 1949. 26th day of January was chosen as the day for implementation of the Constitution to coincide with the day of Purna Swaraj, the declaration of Indian Independence by Congress in 1930.
After partition in August 1947, independent India remained a Constitutional Monarchy under King George VI of England with Earl Louis Mountbatten as Governor-General of India. A Constituent Assembly of elected members was set up in 1946 for the drafting of the Constitution, which would later become the Foundation Stone of/for Indian Administration. After numerous debates and discussions, longest written constitution of the world with 444 articles in 22 Parts, 12 Schedules and 1,46,385 Words was put together. It now has 118 Amendments. On 26 January, 1950, 34th and last Governor-General of India,Chakravati Rajagopalachari read out the Proclamation announcing the birth of Republic of India. Thereafter, Dr. Rajendra Prasad took the oath as First President of India. He then, addressed the crowd, first in Hindi and then in English.
"Today, for the first time in our long and chequered history, we find whole of this vast land brought together under the jurisdiction of one Constitution of a Union which takes over responsibility for the welfare of more than 320 million men and women who inhabit it."
Thereafter, he, in his State Coach, proceeded to attend First Republic Day Parade and was greeted by thousands of people thronging the route as well as the venue. Venue of First Republic Day Parade was Irwin Stadium, now known as Major Dhyan Chand Stadium. On the arrival at the venue, a mixed Contingent of 3000 Armed Forces Personnel welcomed him with a 31 Gun Salute. Afterwards, he took a round of the stadium in a jeep inspecting them. Armed Forces had put in a lot of effort and performed very well. More than 100 Aircrafts participated in an impressive Fly Past which culminated the event. This was followed by "Beating the Retreat".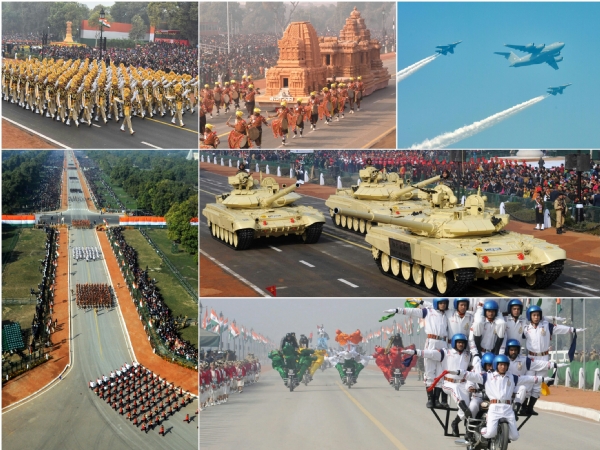 From 1950 to 1954, Republic Day Celebrations were organized at different venues like Irwin Stadium Kingsway, Red fort and Ram Lila Ground. Rajpath became permanent venue for Republic Day Parade Celebrations after conduct of Parade there in 1955. From outset; Republic Day Parades have been a grand affair and a splendid spectacle, displaying the Achievements, Military might and Cultural diversity of India through State of the Art Warfare Equipment, Fly Pasts, Stunts and vivid, thematised Floats from around the country. Continuity of this Parade lies in bold expression of Indian Military Capability, now mostly in the form of sophisticated, modern weaponry. In initial years, participating Army Regiments had ting of British Indian Army, not liked by many. Therefore, more emphasis was on Horses, Camels, Elephants, Mules and Floats. This, in a way, was a tribute to ancient, historical Military Splendor of India. In addition, there used to be dancing crowd of children. Floats often featured agriculture and culture based themes, reflecting young Indian focus on its villages. In the ensuing years, Parade Line up was streamlined with focus gradually shifting to more consolidated, modern and vibrant India. Celebration has a definite and well-defined sequence since 1972.
First, Prime Minister lays a wreath at Amar Jawan Jyoti at India Gate to pay tribute to the soldiers who sacrificed their lives for India.
Prior to 1972, PM used to come directly at Rajpath. From this year, tribute to soldiers will be paid at newly constructed National War Memorial located just 400 meters away, where, sacred flames lit at both these places, in memory of Fallen Soldiers were merged on 21 January, 2022. After wreath laying ceremony. PM reaches Rajpath to Welcome and Greet the President and visiting Dignitary. Invited guests would already have arrived at the venue. Soon after wards, President reaches Rajpath along with the Guest of Honour invited for the event. He is escorted by mounted column of President's Body Guard. The event begins with a Horse mounted Salute given to the President who then unfurls National Flag. Side by side, National Anthem is played by Services Band with Guns booming as the back drop. President then confers Highest of Chakra series of Gallantry Awards to the Individuals/next of kin of fallen Soldier.
Bharat Ratna/Civilian Awards of Padma Series and other Gallantry Awards of Chakra Series/Sena Medals are announced on 25 January, on the eve of Republic Day. After Awards Ceremony, Helicopters fly past Parade Area showering rose petals on the audience.
This indicates Commencement of Parade March Past. Scope of Parade is from Raisina Hill near Rashtrapati Bhavan, along Rajpath, past India Gate, culminating at Red Fort. In the forefront are, Highest Gallantry Award Winners in open Jeeps, passing and saluting the President who is also the Commander in Chief of Armed Forces. Then, Army displays its latest acquisitions & prowess such as Missiles, Tanks, Engineering Vehicles and other Special Weapons. Navy showcases its Sea Power.Marching Columns of Army, Navy, Air Force, Para Military Forces, CAPF, Delhi Police, NCC and Girls from Birla Balika Vidyalaya, Pilani march past the saluting dais. Military Parade is followed by Cultural Parade consisting of Tableaus and Cultural Performances/Performers from various States/Government Departments. Tableaus depict State Festivals, Art, History, Flora/Fauna, Developmental Works, Personalities, Culture, Traditions and Specific/Special Things. It is followed by Daredevil Motorcycle Riding Display and a spectacular Fly Past by Indian Air Force Fighter Jets, Helicopters and Aerobat over Raj path. Parade ends with Commander, President's Body Guard seeking permission of the President to conclude the event.
Official Conclusion of Three day Republic Day Festivities is marked by "Beating the Retreat" Ceremony conducted on 29 January evening. The ceremony begins with the massed bands of the Indian Army, Navy, and Air Force. Drummers give solo performances and Bands play various Martial Tunes followed by 'Abide with Me' which is said to be Mahatma Gandhi's favourite. From this year, this tune has been taken off from agenda. A heart wrenching Bugle Call for Retreat follows the performance and Band Master seeks permission of the President to take bands away, announcing conclusion of Closing Ceremony. The National Flag is then lowered and National Anthem sung. Bands march back to the tune of Muhammad Iqbal's ever green 'Saare Jahan Se Achcha'. This "Taraana e Hind" was penned by him in 1904 as "ode to Hindustan" which quickly became an anthem of opposition to British Raj. This is the Marching Song of Indian Armed Forces.
I was fortunate to have attended the Republic Day Parade of 1966 as part of the NCC Contingent. Initially it was to be a grand affair to celebrate our victory in Indo Pak War of 1965 but suddenly turned low key as news came in that Nation had lost Shri Lal Bahadur Shastri, PM, on 11 January at Tashkend, Russia. Mrs Indira Gandhi was sworn in just two days before. But vigour and enthusiasm was same. We had 14 Marching Columns and a Fly Past of 12 Hunters, Gnats Canbera and Dakotas. NCC had only one column of Male Cadets. Our Commentator was deep baritone voiced Melville De Mellow, Pamela Singh, Lotika Ratnam in English and Jasdev Singh, Devaki Nandan Pande and Indu Wahi in Hindi. We had to camp and rehearse for 45 days in biting cold of Delhi. Though at that time it was taxing but it was corner stone of my joining Services. Camaraderie of that camp is still alive. That's the spirit of NCC.
Republic Day Celebrations in 2022 have number of new initiatives because of 75th year of India's Independence. a) Celebrations will commence on 23 January as mark of respect to Netaji Subhash Chandra Bose whose 125th Birth Anniversary falls this year. On evening of 23 January, Prime Minister Narendra Modi will confer "Apda Prabandhan Puruskars" instituted in 2018 in memory of Netaji Subhash Chandra Bose for "Disaster Risk Management"' b) States and Union Territories have been advised to invite persons from one or more other states for their own Republic Day parade to "enhance mutual understanding and bonding"; c) Governors/Lieutenant Governors have been requested to invite State Achievers in different fields who have exemplarily contributed Society for their At Home functions; d) As Prime Minister lays wreath at the National War Memorial on 26 January 26, Cadets from the every Directorate of National Cadet Corps will visit and present a "Plaque of Gratitude" to the next of kin of 5000 soldiers whose names are engraved at National War Memorial for laying down their lives defending India. By 15 August this year, visit and presentation of plaque to families of all 26,466 names mentioned at the Memorial will be ensured; e) On 29 January, a Projection Mapping Show of about five minutes will be showcased on walls of North and South Blocks to commemorate 75 years of Independence before end of ceremony Beating the Retreat; f) Approximately 1000 Drones of Botlab Dynamics, a start up supported by the Indian Institute of Technology, Delhi, will participate in Republic Day celebrations; g) Parade will commence at 1030 hours and terminate at 1230 hour; h) Parade will have 16 Marching Contingent,17 Military Bands and 25 Floats under Lieutenant General Vijay Kumar, Parade Commander and j) PT 76, Centurian Tanks, Topak Armed Personal Carrier Vehicle,75/24 Cannon used in Indo Pak War1971 will be displayed along with latest acquisition.
This year, Fly Past that marks the end of Republic Day Parade will be Grandest and Largest till date; with participation of 75 Air Craft consisting of Rafael, Sukhoi 30 MKI, Miraj 2000,Jaguar, Dakota and Mi 17/Apache Helicopters from Air Force; MiG29K, P-8I Surveillance Air Craft and Jaguar from Navy and Sarang Helicopter Team from Army.
Fly Past will witness 15 different Formations by these Air Craft/Helicopters. It will begin with "Dhwaj Formation" of four Mi 17 Helicopters followed by "Rudra Formation" and "Rahat Formation" with 4 and 5 Advanced Light Helicopters respectively. Fly Past will include one Dakota and two Dornier in "Victory Formation" flown as a tribute to the Tangail Air Drop, a 2 Para Regiment Operations of 1971 War. There will also be one Chinook and four Mi-17 Helicopters flown as a tribute Heliborne Operation across River Meghana in 1971.Both these operations were in erstwhile East Pakistan. Fly Past will conclude with seven Jaguar Fighters flying in "Amrit Formation" to commemorate the 75 years of Independence.
All in All, it is going to be an affair to watch, a show case of Indian Military Might and National Progress with emphasis on Unity in Cultural Diversity. Hope history is repeated and someone watching gets inspired to join Forces as I did.