New Delhi, Jan 25: In yet another attempt to hurt religious sentiments, a man attempted a sacrilege bid at the historic 'Kali Mata Mandir' in Punjab's Patiala, during prayer time at 2.30 PM. The police have arrested the accused person, who has been identified as Rajbir Singh.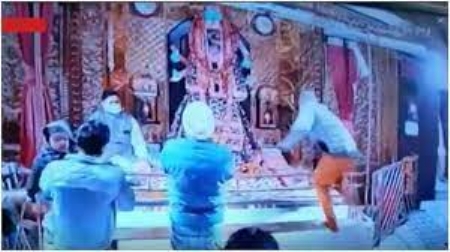 The accused has been arrested and a case under relevant sections, including 295-A (deliberate and malicious acts, intended to outrage religious feelings of any class by insulting its religion or religious beliefs) of the IPC has been registered against him, said the DSP.
The whole incident was captured on the CCTV Camera. In a video, a man climbed the enclosure where Maa Kali's Swaroop is installed and tried to deface the Swaroop. The priest present in the enclosure got into action immediately and pushed him away from the idol. The temple administration handover him to the police.
Meanwhile, several political leaders condemned the incident and expressed fear of spreading communal hatred by some vested interests ahead of the Punjab Assembly polls.
Chief Minister Charanjit Singh Channi tweeted, 'Today around 2.30 pm, a person arrived at Sri Kali Mata Mandir in Patiala and climbed on the threshold where the Idol of Sri Kali Mata Ji was installed. Following this, he was caught and handed over to police.'
'Some vested interests are continuously trying to destabilise the social harmony of Punjab in view of the upcoming elections but I will not let them succeed in their malicious motives,' he said.
Former Punjab chief minister Amarinder Singh also condemned the incident and said, 'Repetitive attempts to disturb peace in Punjab will not be tolerated. I urge @ECISVEEP to take strict action so that the atmosphere in the state is not disturbed.'
.
.