Originally Written By : Anathbandhu Chattopadhyay
Translation Courtsey : Kamendra Saav
The Indian Arya tradition talks of an eternal fact that been etched in perpetuity – "Keertiryasya Sa Jeevati", which means a person renowned for his good deeds and virtues carves a permanent place in people's mind space and becomes immortal in time (Chiranjeevi). These eminent personalities enliven and energize a circle of creativity around them with their exclusivity and uniqueness. Living by example and leading a life for others by spreading kindness around becomes the goal of their life.
The history of India is undoubtedly an illustrious account of self-respect and pride, but unfortunately it also faced incessant attacks of hatched conspiracies to prevent its universal dissemination and continual efforts to distort its timeless cultural heritage. A vicious circle of detractors indirectly entangled it, thus annulling out any possible alliances and tearing our mighty force apart. However, we also need to be cognizant of the fact that there definitely exists an invincible power protecting our Hindu culture and guarding it intact. A solemn contemplation leads us to the realization that this power is nothing else but unified consciousness (Ekatvamayi Chetana).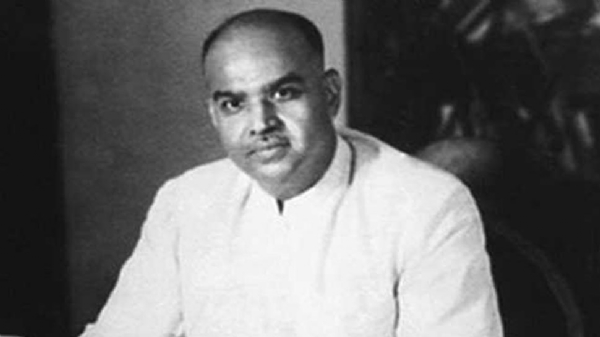 Dr. Shyama Prasad Mukherjee
Indian history has witnessed numerous such personalities with the cleanest conscious and conscience. Bharat Kesari Dr. Shyama Prasad Mukherjee ranks top amongst them' the reason being his rise during the political crisis in India and his influential role in patriotism.
Congress leader Pandit Jawaharlal Nehru became the first Prime Minister of Independent India after the country secured homerule on the 15th of August 1947. While constituting the follow-up cabinet, Nehru invited a few eminent opposition leaders to join the ministry on Gandhi Ji's advice and guidance, and Dr. Shyama Prasad was one of them. He held office as the Minister of Industry and Supply in Nehru's cabinet.
India was under Mughal rule and British colonial rule for many centuries. Thus, there was a disregard for 'comprehensive development of India' for centuries of ulterior motives of the rulers. The basic infrastructure of Indian industries had become lax. Only a few industrial establishments survived the transitions; like, some textile industries of Maharashtra, the Tata Steel and Indian Iron of Jamshedpur and Burnpur and the jute industry of Bengal. It won't be an exaggeration to say that - "There was negligibility in the due diligence and multidimensional thinking of the Union Industrial Ministry." Basically speaking, there was a lack of will.
Shyama Prasadji brought about a change in the transcending sick beliefs and practices. As he took charge of his portfolio of Industries and Supplies, he focused on laying down an infrastructural foundation as well. Endowed with eminent management skills and abilities, Shyama Prasadji believed that- "Creating basic infrastructure is the first step towards renewable development. Only that can truly trigger a tide of development based on self-reliance". He first decided to strengthen the transport system.
Chittaranjan Locomotive Works : A Visionary Project
The length of railways in erstwhile India was only 54000 kms. Trains in India used to run with the help of steam engines back then. These steam engines were originally imported from Canada, England and America and maintenance and repair was also managed by the same foreign companies. Shyama Prasad Ji took initiative towards putting an end to foreign dependence and took many important decisions in the direction of plummeting it. He conceived the project of manufacturing locomotives in India itself. He was always on the forefront to formulate any scheme that promised public welfare.
Chittaranjan Locomotive Works
He started by selecting the Mihijaam area under Eastern Railway, which was part of the erstwhile Bihar state, for the establishment of the Steam Locomotive industry. Shyama Prasad Ji wanted to set up a factory in West Bengal also. He thus sequentially seeked the necessary industrial land from the Bihar government for later successfully got it included in West Bengal. He chose the nearest locations of both the states very cleverly and strategically this way and demonstrated the 'public administrative efficiency' beautifully in the light of balanced development and availability of resources. The foundation stone of the locomotive factory was laid in January 1948. Shyama Prasad Ji got this 'Adharshila' establishment done with utmost urgency at the hands of Basanti Devi, the wife of Chittaranjan Das.
26 January 1950 dawned as the most memorable day in the history of India. It was on this day that the 'Holy Constitution of India' was implemented in the democratic system. As a result of the unprecedented entrepreneurial vision of Shyama Prasadji, it was also on this day that the first locomotive engine was manufactured at the Chittaranjan Locomotive Works (CLW) and was rendered in the service of the nation. A novel asset was added to the Indian Railways on that day, making The 'Indian Railways' self-sufficient in Locomotive Manufacturing and Maintenance.
Alas !! The Oblivion
Shyama Prasad Ji's 'Dream Project' proved to be distinguished and well-equipped in making engines not only for India but also for countries abroad. But ironically and surprisingly, Shyama Prasad Ji's name has faded in oblivion from the very place, the very enterprising project, of which he was the founder and promoter. The 'City of Enterprises and Plans' – Chittaranjan in the Asansol division that he brought to life with his dedication does not seem to take a serious and thoughtful cognizance of his achievements. Not a single memorial has been preserved, not a single road or lane has been named in the memory of Dr. Shyama Prasad Ji in the city that he crafted. This well planned oblivion seems thought-provoking and unfortunate.
Apart from the Chittaranjan Locomotive Works, the 'Maithan Dam Project' was also built along with 'Damodar Ghati Corporation' located near Chittaranjan and this project too was also envisaged and successfully completed under Shyama Prasad Ji's office as a Union Minister. He traveled to these areas several times and was solely responsible for their upliftment. But under the influence of some malicious mystical reasons and intentions, his memories remain curbed. Neither appropriate mementoes for keepsakes, nor any memorial are seen to be established in his memory. The big question is – Who is responsible for this mistake – History or the Nation? And, who will fix it?