Srinagar, Jan 26: It is indeed a historical day for every Indian as the dream of 130 cr Indians has come true today. On the occasion of the 73rd Republic Day of India, Kashmiri people hoisted the national flag of India for the first time since 1947 at the Historic Clock Tower (Ghanta Ghar) LalChowk, Srinagar.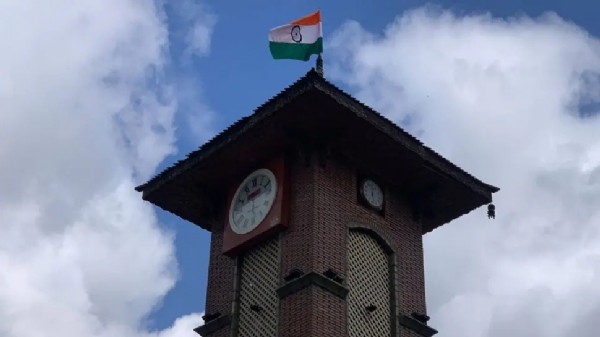 Two activists from Jammu and Kashmir, Sahil Bashir Bhatt and Sajid Yusuf Shah, unfurled the Indian National Flag at the city square of the Union Territory's summer capital. The duo first sought permission from the higher authorities and then proudly unfurled the flag at the iconic Ghata Ghar. The locals, along with NGOs and the administration, also held a flag hoisting ceremony at the Lal Chowk area.
While expressing their happiness, they said, "This (unfurling of Tricolour) could not happen in 70 years because previous governments were biased. They said one thing in Jammu and Kashmir and contradicted themselves at New Delhi. They did not let it happen."
"For the previous government, this was not a big deal, but not for us. They could have easily done this," he continued.
Srinagar's Lal Chowk has immense historical significance in the country. It is a highly sensitive area in Srinagar. Lal Chowk has been a place of controversy and history, ever since India got independence. The area, once under the control of Islamist separatists, is now easily accessible to the residents of the city.
Earlier, the famous clock tower at Lal Chowk in Jammu and Kashmir's Srinagar was illuminated in Indian tricolor on the occasion of Independence day.
.
.