Lucknow, Jan 27: BJP's ally in UP Apna Dal has fielded Rampur Royal Family member, Haider Ali Khan against the infamous Samajwadi Party (SP) leader Azam Khan's son, Abuddalh Azam Khan.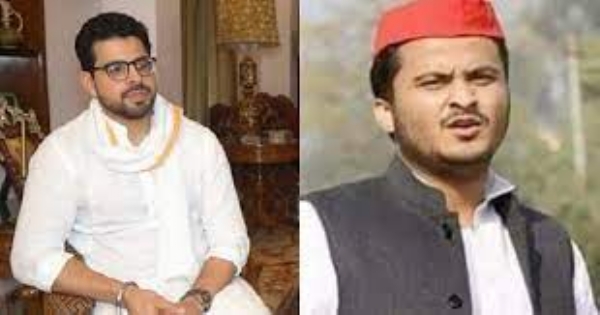 Dispelling any doubts about its bonds with jailed MP Azam Khan, the Samajwadi Party (SP) has again announced his candidature as the party candidate from the Rampur constituency while fielding his son Abdullah Azam Khan from the Suar seat in Rampur district. The battle lines were thus drawn for a keen contest between the father-son Azam duo and their traditional rival, the family of the erstwhile Nawabs of Rampur, in the upcoming Uttar Pradesh Assembly elections.
The descendant of the erstwhile Rampur royal family, Kazim Ali Khan (alias Naved Miyan) will take on Azam in the Rampur seat on the Congress ticket, while the BJP has nominated Akash Saxena as its candidate. In the Suar constituency, the BJP's ally Apna Dal (S) has fielded Kazim's 30-year-old son Haider Ali Khan (alias Hamza Miyan) against Abdullah Azam Khan.
The Congress had earlier declared Haider, a Shia Muslim, as its candidate from the seat, but he switched to the Apna Dal (S) and became the first Muslim candidate to be fielded by the NDA in UP since 2014. The Apna Dal, led by Union Minister Anupriya Patel, which enjoys influence in the eastern UP, which has a sizeable Kurmi population, sprang a surprise by giving its ticket to Haider from a constituency in the Rohilkhand region in northwestern UP.
The two seats in Rampur district are witnessing a re-run of the electoral battle between the two families that became arch-rivals after Azam Khan emerged in Rampur politics as a "common person" against its "Nawabs and feudal lords" four decades ago.
Azam, whose father was a typist, used to invoke his humble background in his election speeches and would hit out at the family of the Nawabs, whom he described as feudal lords. His style was very theatrical and he would level allegations against the Nawab family after he burst upon the scene in Rampur politics after completing his education from the Aligarh Muslim University," says a senior SP leader. "Since then, Azam did well electorally and made Rampur his stronghold, becoming an MLA nine times. Though the Nawab family never publicly described Azam as a competitor, Azam always invoked their names and sought to make it a David versus Goliath-type contest."
Kazim is the son of Begum Noor Bano, a two-time Congress MP from Rampur (1999 and 1996), who was married to late Syed Zulfiqar Ali Khan (alias Mikky Mian), the son of Nawab Raza Ali Khan, who was the Nawab of the Rampur princely state before the Independence.