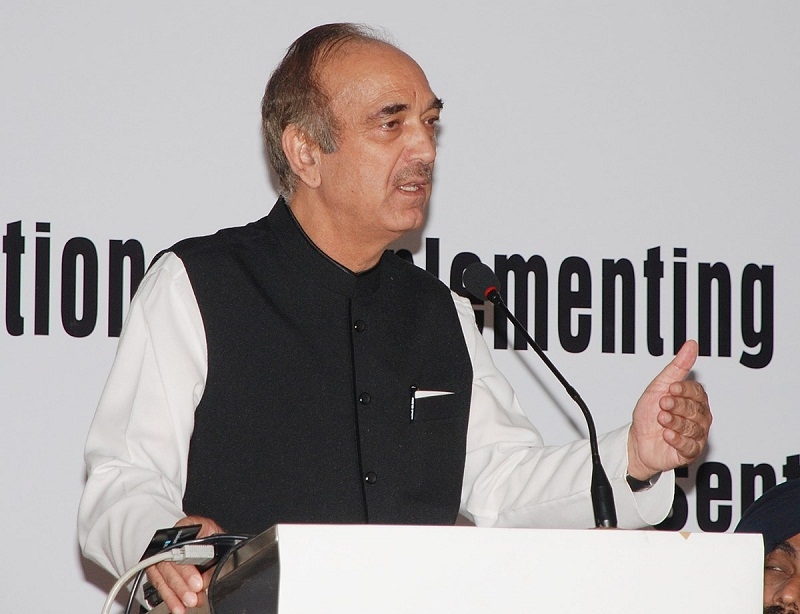 Congress Leader Gulam Nabi Azad whose nomination for Padma Award led to a debate in the Congress party
New Delhi, Jan 27: It is Congress versus Congress. A strange situation indeed! With the announcement of the Padma Award to senior Congress leader Gulam Nabi Azad in recognition of his service to the Nation, the frustrated and leaderless Congress party is seen indulging in the dirty politics over the most prestigious and highest civilian Padma Award.
The President announced the conferring of Padmabhushan Award on senior Congress leader, former leader of Opposition in the Rajya Sabha Gulam Nabi Azad among others. And this is exactly the shoe that is pinching the Congress leaders.
While a group of senior Congress leaders like Kapil Sibbal, Anand Sharma, and Shashi Tharoor congratulated Gulam Nabi Azad on being nominated for this award. But some others like Jairam Ramesh launched a scathing attack on him for accepting the award.
In a tweeter message, this morning Jairam Ramesh, senior Congress leader, and Rajya Sabha MP said in reaction to former West Bengal Chief Minister Buddhadev Bhattacharya's refusal to accept the Padma Award that he (Bhattacharya) did a wise thing. He wanted to be 'Azad' and not a 'Gulam'.
It may be mentioned that CPM leader and former West Bengal Chief Minister Buddhadeb Bhattacharya pleading ignorance about his being conferred the Padma Award, refused to accept it for obvious reasons. He even did not go to the Kolkata Airport to receive the then visiting Prime Minister Atal Bihari Vajpayee because he represented the 'Hindutva' ideology. Therefore his refusal of the Padma Award this time should not surprise anyone as Communists are known to harbor animosity for a lifetime.
CPM on its official Twitter handle said: 'Com. Buddhadeb Bhattacharya who was nominated for the Padma Bhushan award has declined to accept it. The CPI(M) policy has been consistent in declining such awards from the State. Our work is for the people not for awards. Com EMS who was earlier offered an award had declined it.
But using his refusal to target Gulam Nabi Azad, who despite his being a Muslim is conferred the Padma Award by the Government of the 'Hindutva' (read nationalist) party disgustingly exposes the Congress party's intellectual and patriotic bankruptcy. By criticizing Azad, the Congress leaders directly and overtly expressed their anti-India attitude which should not be tolerated at all costs and levels.
It seems that the Congress leadership is trying to build pressure on Gulam Nabi Azad to refuse the Padma Award the likelihood of which appears distant at the present juncture. Azad is receiving support from senior leaders like Kapil Sibbal, Shashi Tharoor, and Anand Sharma. And remember they are the same leaders who formed a group of 23 (G-23) within the Congress and wrote to the Congress President Sonia Gandhi to take drastic action to restore the falling morale of the party workers and to regain its position in the Indian democratic polity.
But the immature leadership of Rahul Gandhi and his cohorts have ridiculed them and rejected their advice. Kapil Sibbal congratulated Azad and said that the Congress party failed to understand the importance of leaders like him but the nation recognized his services.
Shashi Tharoor, who adversely commented to senior Congress leader and former Union Minister RPN Singh's joining the BJP and sharing dais with the senior BJP leaders, however, congratulated Gulam Nabi Azad and described this as a 'good to be for one's public service even by a government of the other side'.
Assam chief Minister Himanta Biswa Sarma too congratulated Gulam Nabi Azad for being nominated for the Padma Award. In a tweet message, he said that this was well-deserved recognition for the distinguished politician, gentleman, and staunch nationalist.
With the election fever rising in states like Uttar Pradesh and senior Congress leaders like RPN Singh joining the BJP, the Congress is really facing a pathetic situation. The party does not have a leadership that would steer it clear to a respectable position if not to the seat of power. In such a situation alienating experienced and respected leaders like Gulam Nabi Azad would prove costly for Congress even to retain is existence as a political party. But the present Congress leadership seems to be totally oblivious of this stark reality. One can only say 'May God Save the Congress'.