Gaya, Jan 27: Railway aspirants in Bihar's Gaya resorted to violent measures, after alleged irregularities in Railway Exams. Union Railway Minister has asked students to remain calm.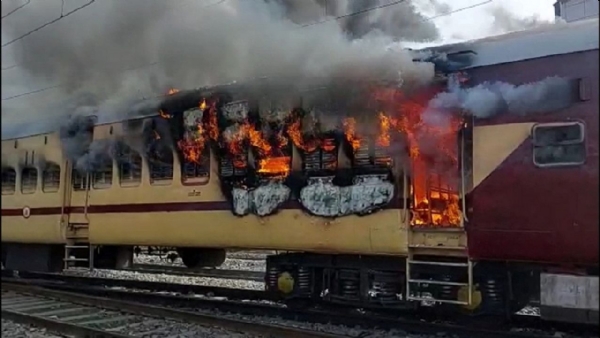 As the protest against the Railway Recruitment Board's two-tier exam for Non-Technical Popular Categories (NTPC) took a violent turn in Bihar on Tuesday, Railway Minister Ashwini Vaishnaw urged the protesting students to remain calm.
The Union minister urged the aspirants to not indulge in violence. "I request students that railway is your property, please do not destroy it. We will solve your problems. The results of the exams will be transparent and fair," Ashwini Vaishnav said.
The minister's statement came shortly after a group of protestors set fire to a train at the Gaya railway station in Bihar. The protestors also vandalized the station.
Ashwini Vaishnav said that the ministry has formed a committee that will examine the grievances of those who have passed the exams under different railway recruitment boards and those who have failed.
After listening to both the parties, the committee will submit a report to the railway ministry by March 4, he said.
Meanwhile, the ministry has suspended the NTPC and Level 1 tests.
"We have to find a solution in such a way that those who have been shortlisted do not suffer, but those who have grievances should also be addressed," the minister said.
Railway Minister Ashwini Vaishnav said that the aspirants must not take law and order into their hands. Reacting to the reports of police action against protestors, the minister said that the law and order was a state subject. But the ministry was in constant touch with states to ensure that the matter is resolved soon, he said.
"Police administration is acting based on law and order, no one should vandalize public property," Railway Minister Ashwini Vaishnav said.
The minister said that students at many protest sites had already agreed to talks. He urged the students to present their demands formally. "We will look into it," he said.
Several protests broke out against the test on Monday as protesters blocked train routes in Patna. On Wednesday, the protests spread to several towns in Bihar and Uttar Pradesh disrupting train services on the route. In Gaya, protestors allegedly set a train on fire and pelted stones on the station.
The job aspirants are protesting against the two-tier exam as they claim the RRB notification issued in 2019 mentioned only one exam. They accused the officials of playing with the future of the students. The issue was highlighted when the results were declared on January 15. At that time, the Ministry of Railways had issued a clarification in which it said that the second stage exam was mentioned in the notification.