New Delhi, January 27:
Former Vice President Hamid Ansari, actress Swara Bhasker, Archbishop Peter Machado were invited in an event 'Protecting India's Pluralist Constitution' on the eve of Indian Republic day, January 26 at 10:30 PM IST.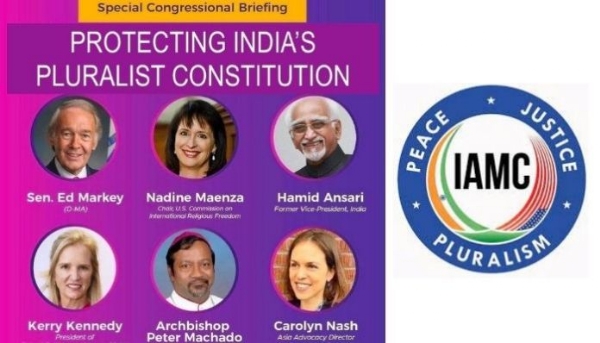 The virtual event is hosted by 17 US-based rights organizations including Amnesty International (USA), Genocide Watch, Hindus for Human Rights, Indian American Muslim Council amongst others.
The groups based in USA responsible for hosting this event are known for targeting India many times for its sovereign decisions. The groups have not just lobbied against India for acts passed in the parliament democratically, but also engage in the discourse which is anti-Indian and hinduphobic in nature.
The IAMC too, is responsible for hosting and promoting this event. It is the same radical Islamist group that has alleged links with banned terror organizations like the Students Islamic Movement of India (SIMI).
According to a recent expose by DisInfo Lab, the IAMC has allegedly paid money to lobby groups in the USA to get India black-listed by the USCIRF (United States Commission on International Religious Freedom). DisInfo Lab has also alleged that the group has also open links with terror outfit Jamaat-e-Islami (JeI).
With the help of Fidelis Government Relations (FGR) and First Principles Strategies, IAMC raised US $ 4,12,000 to promote sanction legislation on Burma, China and India on 'issues related to human rights'.
IAMC members were vocal supporters of the Taliban, including Kaleem Kawaja who gave a call, 'Brother, you can spare a tear for Taliban'. IAMC was caught spreading fake news in India to incite communal violence. The organisation was slammed with UAPA in 2021. With participation of Swara Bhasker and Hamid Ansari, local voices have increased the causes of IAMC to peddle the narrative of 'minorities under threat' in India.