New Delhi, Jan 27: After witnessing several ups and downs in the span of 69 years, Air India is set to be officially handed over to Tata Group on Thursday. Tata Group Chairman N Chandrasekhar is in Delhi to witness the formal transfer.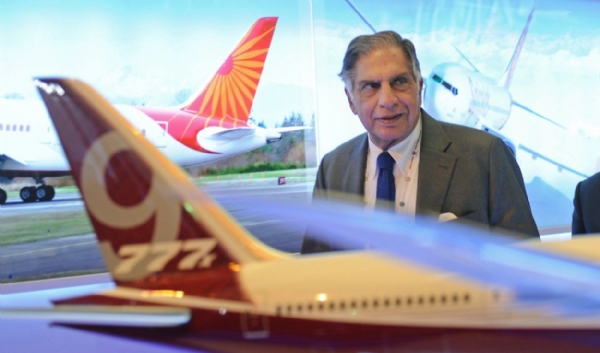 Reports suggest that Air India will be handed over to Tata Group today in the afternoon. Tata Group Chairman N Chandrasekaran will be in the ministries for the official handover process. Apart from this, a formal announcement from the Tata Group regarding the official handover process will be made today.
As reported earlier, Maharaja is the official mascot of Air India which operates globally apart from domestic operations. According to the available data in 2020, "Air India operates around 101 destinations including 57 domestic operations including 33 countries on four continents around the world."
Aviation experts say that Air India is carrying a substantial number of latest aircraft in its fleet from both Airbus and Boeing which is Air India's strength. Air India code share with Star Alliance and operates a total of 172 wide and narrow body aircraft with Air India Express globally including domestic operations.
Recently Vinod Hejmadi, Director Finance, Air India in an email to employees and said, "Air India disinvestment has been decided to take place on January 27, 2022. Closing balance sheet on Jan 20 is to be provided today, January 24 so that it can be reviewed by Tata and any changes can be made on Wednesday."
As a first step in the process of Air India takeover, the Tatas introduced an "enhanced meal service" in four flights operating from Mumbai on Thursday. Earlier this week, the central government had also said that it aims to complete the disinvestment process on January 27.
Also Read: 'Maharaja' returns to its home after 68 years! Tatas win Air India with ₹18,000 crore bid
In October 2021, Tata Sons finally won the bid to acquire Air India for Rs 18,000 crore. The government had sold Air India to Talace Private Limited – a subsidiary of the Tata Group's holding company. This is the first privatisation of an airline since 2003-04. At the same time, with the takeover, Air India will become the third airline brand in the Tatas' stable, making it a dominant player at No. 2 spot in the domestic market after IndiGo. The Tata Group already holds a majority interest in AirAsia India and Vistara, a joint venture with Singapore Airlines Ltd.