Those who have lived through 1980-90s terror nightmare of Punjab, have not forgotten history. It is said, history repeats itself as a farce and then as a tragedy. What happened yesterday was a farce orchestrated by Congress. Does Congress want to repeat history as a tragedy now? Is it inviting 1980s with overt and covert support to disruptive farmer leaders for an agitation that is being exploited by Khalistanis by making it a religious issue? Otherwise, why Khalistan supports abuse Modi ji who has put 1984 pogrom culprits into jails, who has got back holy Guru Granth Sahibs from Afghanistan with utmost respect and give right for quick citizenship to minorities including Sikhs to escape the atrocities of Islamic nations?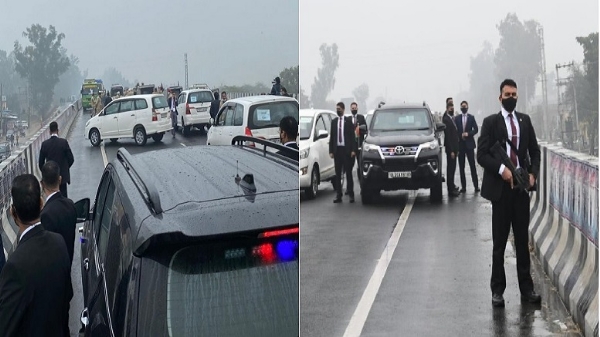 Just to recap history quickly – 1980s Khalistani movement was a result of 'divide and rule' game that Congress has learnt at the knees of British who facilitated the birth of Congress. Right from 1950s when Congress first tried to evade promotion of Punjabi language as the language of the state to delay in creation of Punjabi Suba till 1966 while other linguistic states were organised from 1953. Punjab was the last one to be reorganised. The division of Punjab and creation of Haryana and Himachal Pradesh was deliberately messed up when some of the issues were left unresolved. Thus, a festering wound was left unattended. Continuous efforts to disturb Akali Dal ministries led to frustration of Akalis who went onto design "Anandpur Sahib Resolution" which ostensibly was a document to redefine centre-state relations with more powers to state, but had strains of theocracy and underlined of supremacy of Khalsa panth over democratic institutions. For years, Akalis used this document to put political pressure for getting things done their way, while Congress tried to divide Sikhs by encouraging people of the likes of Bhindranwale.
Both Congress and Akalis felt they could ride the tiger, without realising that they couldn't dismount it at their choice. End result was horrendous loss of lives of which majority were Sikhs. Punjab Police took biggest beating before its dignity was retrieved by great officer KPS Gill.
By closing their eyes to open use of religion to instigate Sikh farmers against the central government and creating a hate figure in Modi Congress leaders are playing with fire. 26th Jan Red Fort insult to the national pride was not an accident, nor was Congress party and other opposition parties' defence a thoughtless act. It was unwise but not thoughtless. Nor is 5th January 2022 an accident. It will remain etched in collective memory.
No PM since 1947 has been abandoned like this on open highway one minute away from possible enemy attack.
What happened yesterday, not a 'kudrati' or natural incident as inept CM Channi pronounced. It was an orchestrated act that can lead people to take law into their own hands in Punjab again and in other opposition ruled states too, where they feel they can let police sip tea with disrupters and preside over destruction of constitutional norms. It has already been tried in Bengal.
Worried people have seen the dangerous incident unfold before their own eyes on TV screens. They have also seen Congress leaders exulting over the exposure of India's Prime Minister exposed to grave danger to his life. "How is the Josh" came from a leader of the party that has lost its top leaders to terror attacks or security lapses! Others were not far behind.
The lame excuses offered for the orchestrated lapse have only got worse. Farcical comments like empty chairs in the public meeting forced Modi ji to abandon the visit only exacerbated the sense of disappointment of the ordinary citizens. Who would believe that a busy PM would call farmer leaders to collect and stop his caravan at the most inconvenient and dangerous place and they would oblige him in 30 minutes? That too a leader who has taken it on the chin all his public life? Who would agree that police gave a go ahead for safe route despite crowds collected on the highway or could not inform the entourage in time to turn it back before it reached the fly over from where there was no easy exit?
To an ordinary citizen who has no interest in party politics, it is a clear case of a failed state government that let the life of the Prime Minister endangered with clear ineptitude if not conspiracy. Can such a party and leaders be trusted with security of the nation and its people? Can a party that jokes about the safety of the PM be allowed to govern any part of this country?
From 2014, we have seen Congress and opposition aided and abetted by discredited opinion leaders abandon every democratic principle that allows an elected government to work. Disrupting the Parliament, calling for "Sadak par utarna padega", stopping each and every law by hook or by crook just due to Modiphobia and inability to reconcile itself to what people want has created a dangerous situation. The GOP has decided that only it has the right to rule this country and every 'usurper' must be thrown out somehow, even following and befriending neighbourhood enemies and doing their bidding.
Clearly, Congress is not beholden to Constitution though unless it is in power. Abandoning all constitutional traditions of centre-state relations and principles of federalism. It can go into oblivion but it has no right to harm the nation. Modi hate and Modiphobia cannot be allowed to turn into pathological hate for constitutional norms and harming the nation. We cannot afford history to repeat itself either as a farce or a tragedy.
.
.