Yesterday, a "major security lapse" occurred during Prime Minister Narendra Modi's commute, which forced him to cut short his visit to Ferozepur and return to the Bathinda airport on Wednesday afternoon. PM Modi was travelling to Ferozepur to lay the foundation stones of development projects worth over Rs. 42,750 crore, including the Delhi-Amritsar-Katra expressway and a PGIMER satellite centre. He was also expected to visit Hussainiwala to pay
homage to the soldiers at the memorial.
The Union Home Ministry has described the incident as a 'security lapse'.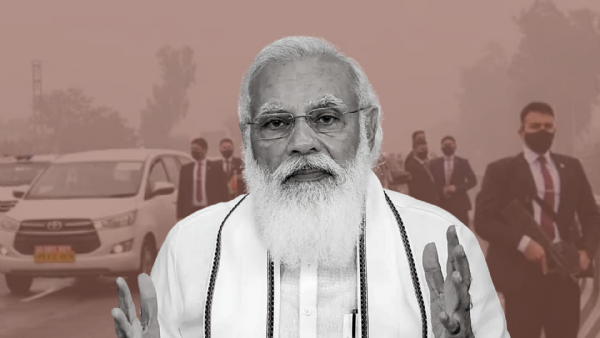 The Prime Minister landed at Bathinda yesterday morning. He was supposed to proceed to the national martyrs' memorial at Hussainiwala by helicopter. However, due to rain and poor visibility, the PM waited for around 20 minutes for the weather to clear. It was then decided that he would visit the national martyrs' memorial via road.
As per the protocol, the PM's schedule and travel plans were communicated to the Punjab government. However, instead of deploying security and taking other measures, protestors were given access to the prime minister's route . Even the Punjab CS and the DGP assured SPG that the path was clear. But, around 30 km from the National Martyrs' Memorial in Hussainiwala, when the Prime Minister's convoy reached a flyover, it was found that the road was blocked by protesters. Due to disruption and mismanagement, PM Modi's convoy was stuck at a flyover for over 15-20 minutes.
The incident forced the PM to cancel his rally and other events planned in poll-bound Punjab. After the Prime Minister safely reached Bhatinda airport, they sarcastically said to airport officials, "Apne CM ko thanks Kehna, ki mein Bhatinda airport tak zinda Laut paaya."
The home ministry has taken cognisance of the "serious security lapse" and has sought a detailed report from the state government. The state government has also been asked to take responsibility for this lapse and take strict action.
Deputy CM busts Channi's lies
When Punjab CM Charanjit Singh Channi was asked about the security lapse, he denied saying there wasn't any (security lapse). He further said that PM Modi's decision to take the road route from Bathinda to the martyrs' memorial at Hussainiwala near Ferozepur was taken at the last moment, of which his government was not aware.
He said, "There was no security lapse. PM Modi had a plan to arrive by air but came by road without informing us. I had requested protesters to clear the roads by 3 pm.
However, busting the CM's lies, Punjab Deputy CM Sukhjinder Singh Randhawa has admitted that everyone was aware that PM Modi was travelling by road and Punjab Police was supposed to have made arrangements for the same. He also admitted that it was a major security lapse, saying that an alternate route should have been planned earlier but was not done.
"I don't know if Channi Sahab has refused or not. I am not with him. Everyone knew PM Modi was going by road. There was nothing confidential about it, it was in the media, " he told a private media house.
Randhawa said that a security meeting was also organised between the SPG, Punjab Police, and Union Minister Gajendra Singh Shekhawat regarding the road trip. He further admitted that the Punjab government failed to plan a contingency plan, which is required as per protocol.
According to the protocol, when the Prime Minister visits any state, thea Chief Minister of the State, chief secretary, and DGP normally go to the airport and receive the PM. However, in yesterday's case, none of the three officials attend the PM at airport. In fact, cars that were reserved for them were empty. More shocking it the Punjab police which were deployed for PM"s security were seen enjoying tea with protestors who blocked the PM"s cavalcade.
The Punjab government knew that the Pakistan border is merely 10 kilometres away from the location, which could have posed an entirely different threat to the Prime Minister's life. Still, why so much carelessness? Why did the state government not make the necessary security arrangements? Why didn't Punjab CM Channi go to receive the PM and accompany them? Why didn't CS and DGP accompany the PM during the PM's cavalcade? Did the top officers of Punjab have an inkling of what was going to happen?
It is worth mentioning that last year, BJP IT cell in-charge Amit Malviya tweeted a video of protesting farmers where a man is heard citing PM Indira Gandhi's assassination in an apparent bid to threaten PM Modi.
Clearly, the incident that posed an immense threat to the Head of State was not 'Kudrati' as said by CM Channi. This is the worst kind of dereliction of duty in aid of a nefarious plot against the Prime Minister's life. Through this, they have shown their hatred for Modi. With that, Congress has made it evident that they consider politics ahead of everything else and will do anything to grab power and stay in power.
.
.