Karimnagar , Jan 06: Bharatiya Janata Party Telangana unit president and Lok Sabha member from Karimnagar Bandi Sanjay was on Wednesday released from Karimnagar jail, after the state high court granted him bail and ordered his immediate release.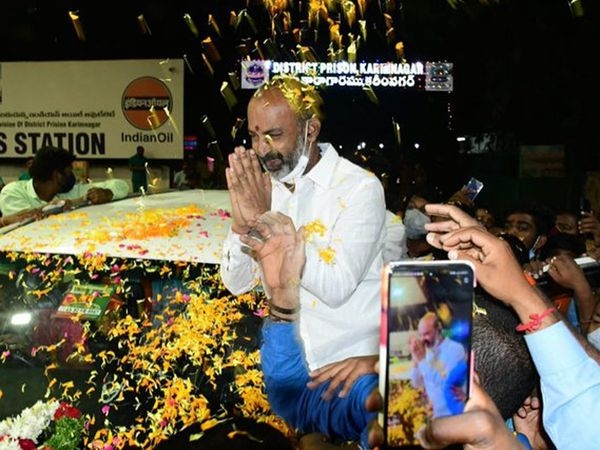 On Wednesday, a high court bench headed by Justice Ujjal Bhuyan heard the arguments on his bail petition and set aside the orders of the Karimnagar court. It ordered the release of Sanjay on personal surety.
Noting that Sanjay was arrested at 10.50 pm and an FIR was registered at 11.15 pm, the high court asked how the FIR was registered in such a short time. It also sought to know why Section 333 (causing injuries to the public servant) of the Indian Penal Code was added to the FIR, as there was no medical report about the injuries to policemen in the remand report submitted to the lower court.
The state BJP chief was arrested by Karimnagar police on January 2 evening during a protest. He was then sent to 14-day judicial remand by the Karimnagar court on Monday.
Earlier on Wednesday, Telangana BJP chief Bandi Sanjay Kumar, party general secretary Tarun Chugh had said that Telangana Rashtra Samithi (TRS) rule has misused the law in the state and added, "BJP will keep fighting the brutal dictatorship against the government. Our agitation is going on and will not stop until the state is made into Bangaru Telangana."
On Tuesday, BJP National President JP Nadda had led a protest against the arrest of Telangana BJP chief and had termed the arrest of Kumar as the "murder of democracy".