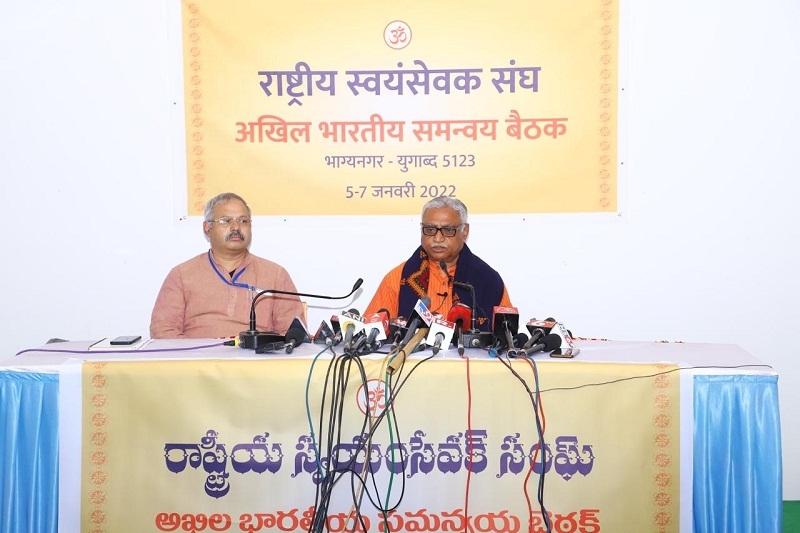 RSS Sah-Sarkaryawah Dr. Manmohan Vaidya addressing press conference at the conclusion of the three-day Samanvay Baithak at Bhagyanagar on Friday. RSS Prachar Pramukh Sunil Ambekar looks on.
Bhagyanagar, (Hyderabad). Jan 8: RSS Sah-Sarkaryawah Dr. Manmohan Vaidya categorically stressed that diversity should not be construed as differences. Bharat has been a diverse society but we always looked at diversity as manifestation of variety and not as difference, he said addressing a press conference at the concluding day of the three-day 'Samanvay Baithak' of RSS and RSS-inspired organizations.
RSS Akhil Bharatiya Prachar Pramukh Sunil Ambekar was also present during the press meet.
Dr. Vaidya said that Swayamsevaks are engaged in eradication of caste-based discriminations and bringing in social harmony through the 'Samajik Samarasata' initiative. Welcoming the National Education policy initiated by the Union Government Dr. Vaidya said that this policy has expressed our spiritual diversity from across the country.
The three-day Samanvay baithak (co-ordination meeting) of Rashtriya Swayamsevak Sangh concluded here on 7th Jan 2022. This meeting is organized twice every year in September and January.
Dr. Vaidya said that Swayamsevaks are working in various sections of society, including students, labor, farmers etc. They are also working among the physically challenged through organizations like SAKSHAM, he added.
Delegates from 36 such independent and autonomous organizations participated in this meeting. 216 representatives including 24 women were expected of which 91% attended, he explained.
The representatives deliberated on malnutrition eradication especially among children and initiatives for employment generation. Discussions were also held on initiatives for Bharat-centric education.
The RSS will take initiative to bring forth the thousands of heroes from the SC, ST communities who sacrificed for the freedom of Bharat in this 75th year of Indian freedom, Dr. Vaidya said adding that life history of 250 such great heroes have been documented by the organizations working among the intellectuals. 75 skits and dramas have been made by Sanskar Bharati.
Dr. Vaidya said that the RSS has trained 10 lakh volunteers in 6000 development blocks to deal effectively with the third wave of Covid-19 pandemic.
The Sangh shakhas which were closed during first pandemic have restarted now. Compared to 2019 October Sangh work has restarted in 93% places, he said.
Stating that a lot of youth are expressing their interest to join Sangh via our website also he said that between 2017 and 2021, an average of 1 Lakh plus to 1.25 Lakh expressed their interest to join Sangh. He added that 55000 shakhas are running, including 60% for students/youths, and 40% for others.
Answering questions raised by the media personnel, Dr. Vaidya explained that Sangh is in the mission of consolidating the entire society as it believed that an awakened society will solve the problems of the country.
Answering a question on what the goal of Sangh is, he said that the goal of Sangh is making Bharat as the greatest, noblest nation in the world is the goal of Sangh.