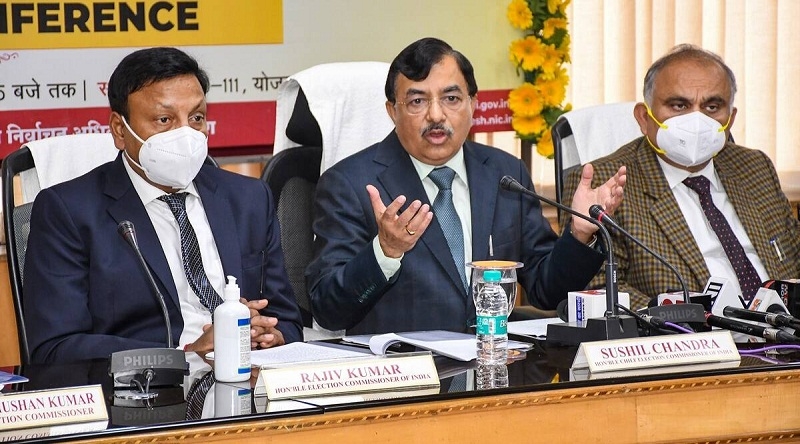 Chief Election Ccommissioner Sushil Chandra announcing election schedule for five states at a press conference on Saturday
New Delhi, Jan 8:
Putting all speculations about deferment of assembly elections for the five states the Chief Election Commissioner Sushil Chandra announced the poll schedule on Saturday.
Addressing the press conference Chandra said that the elections to 690 assembly constituencies spread across the states of UP, Uttarakhand, Punjab, Manipur and Goa will be held in seven phases beginning February 10. The successive phases will be covered on Feb 14, 20, 23, 27 and March 3 and 7.
With 403 constituencies Uttar Pradesh will go to polls in seven phases from February 10 to March 7, Punjab, Uttarakhand and Goa will have a single phase polling on February 14; Manipur, on the other hand, will vote in two phases on February 27 and March 3. Counting of votes will be held on March 10, the CEC said.
A total of 18.34 crore voters including 8.55 crore women will be exercising their right to elect their representatives. 2,15,368 polling stations are to be set up to accommodate these voters. This number of polling stations is 16% higher than the 2017 elections, the CEC said.
In view of the increase in women voters, the CEC has decided to set up 1620 polling stations that will be managed completely by women staff. Besides, there will be special facilities for the Divyang voters at every polling station.
In addition to this the EC has come up with an idea of "Election Commission at the door step of voters" to facilitate voting for senior citizens above the age of 80. The EC team will be accompanied by a videographer to record the voting process, Chandra said.
As regards to the criminal background of the candidate, the CEC said that the candidates will be required to publish their record of criminal cases as soon as their names are declared besides the political parties also be directed to publish the record details of the candidates within 48 hours of declaration of names.
The expenditure limit for elections is also enhanced this time. For Uttar Pradesh, Punjab and Uttarakhand a candidate can spend Rs 40 lakh while candidates in Manipur and Goa will be restricted to spend Rs. 28 lakh only. The CEC said that the poll body will have zero tolerance towards inducement to voters and will take punitive action against such candidates.
The elections are being held in the third wave of the Covid-19 pandemic and as such the Election Commission has taken sufficient measures to ensure implementation of covid protocol to ensure hassle-free polling. All the booths will be properly sanitized; poll personnel will be treated as frontline workers and will be given double vaccine dose and a booster dose. The EC has considered the positivity rates of poll-bound states, has appointed Health Nodal Officers and extended the polling time by one hour.
Chandra said that 95% voters in Goa have received double vaccination, while 83% in Uttarakhand, 52% in UP, 46% in Punjab and 43% voters in Manipur are double vaccinated.
To ensure proper check on spread of covid pandemic, the EC has put a complete moratorium on road shows, public and cycle rallies, padayatras, and physical rallies till January 15. Besides no permission for rallies will be given between 8 PM to 8 AM, Chandra clarified. There will be no nukkad meetings also. The parties are asked to concentrate on virtual and digital campaigning, he said.