Fugitive and radical Islamist preacher Zakir Naik hit headlines after it was reported that Qatar had invited him to FIFA World Cup 2022 held in Doha, Qatar to preach Islam. Reports had also suggested he was spotted in Qatar.


However, Qatar informed India through diplomatic channels that Zakir Naik had not received any formal invitation to attend the November 20, 2022, FIFA World Cup inauguration in Doha. Qatar reportedly stated that other nations were deliberately disseminating "disinformation" to impair diplomatic ties between India and Qatar.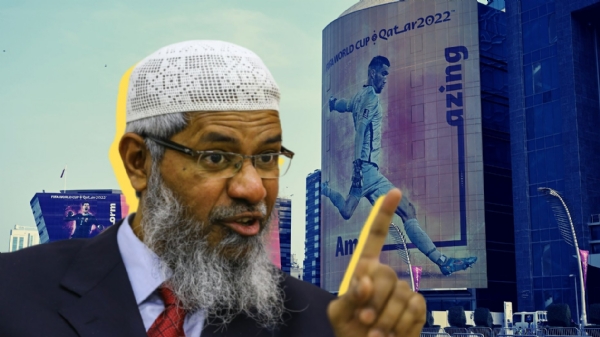 This came after New Delhi raised concerns with Doha that it would be called off to terminate Vice President Jagdeep Dhankar's trip to the FIFA World Cup opening ceremony if Islamist Zakir Naik were to be formally invited to watch the event's opening from the VVIP box, a
report
by India Today stated.
As earlier reported that Zakir Naik had reached Doha in Qatar ahead of the 2022 FIFA World Cup, and he will give religious lectures throughout the tournament in the country. Faisal Alhajri, a presenter at the Qatari state-owned sports channel Alkass. He took to Twitter and wrote, "Preacher Sheikh Zakir Naik is in Qatar during the World Cup and will give many religious lectures throughout the World Cup".


Notably, he has been banned from delivering speeches in Malaysia, his country of refuge after he fled India in 2016 on accusations of hate speeches, subversion and money laundering. Besides India, his Peace TV network is also banned in Bangladesh, Canada, Sri Lanka and the UK.

Also Read: Qatar invites radical preacher Zakir Naik for FIFA World Cup

Naik is accused of influencing through his speeches perpetrators of the 2016 Dhaka bombing that killed 20, including 17 foreigners, and the much more devastating Easter bombings in Sri Lanka that killed over 250 in 2019. Some who joined the ISIS and were later apprehended confessed that the turning point was their meeting with Naik, who has denied having any role.