At a time when a halal controversy has erupted in Karnataka and the hashtag #BoycottHalal is trending on social media, Ayurveda product maker Himalaya has been drawn into the fray.A full-fledged campaign against the Himalaya has flared up on social media. Many social media users have begun to trend the hashtag #BoycottHimalayaProducts.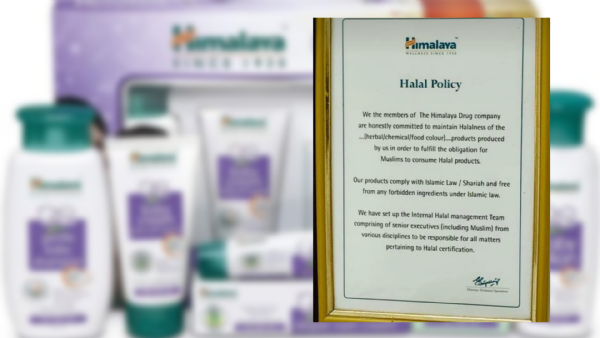 This just comes after one photo goes viral that claimed the pharmaceutical company, Himalaya, uses halal-certified meat in its products. It further claims the company's products comply with Islamic Law/ Shariah and are free from any forbidden ingredients under Islamic Law.
Moreover, it also claimed that the company has also set up an Internal Halal Management team comprising senior executives, including Muslims, for all matters related to halal certification.
One social media user also confirmed that, Himalaya Drug Company's neem, tulsi, and lasuna supplements contain halal-certified meat. He claimed that Himalaya's tulsi and neem capsule shells are made from gelatine, which is obtained from cows or pigs, and are halal-certified. He also alleged that it is safe to say the majority of the products will have bovine in them.
Notably, the founder of the company was Muhammad Manal, who established it in 1930.
'Halal' is an Islamic word that means 'Permissible or Lawful'. Haram is the opposite of halal and it means the use of such things are prohibited in Islamic culture.
What is halal certification?
Halal certification is issued by the government in several Islamic nations. Many private companies in India provide halal certification, which certifies that the food or items are suitable for Muslims. Because cosmetics and pharmaceuticals include animal by-products, they require halal certification.
Therefore, cosmetics and pharmaceuticals that are halal certified simply mean that they do not contain anything that is prohibited for followers of Islam. As per several reports, the halal food market constitutes about 19% of the global food market.
As soon as the post went viral on Twitter, people started protesting against the company, stating they would boycott Himalayan products till the company issues clarification on this matter.