Delhi, May 14: Maharashtra's Amravati MP Navneet Rana, who triggered the Hanuman Chalisa row in Maharashtra, performed Aarti and recited the Hanuman Chalisa at Delhi's famous Hanuman Temple. Her husband and Independent MLA from Maharashtra Ravi Rana was also present with her.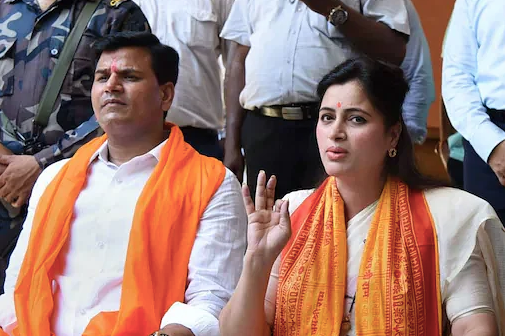 Navneet Rana can be seen performing the rituals in the presence of her husband and temple priests. She can be seen chanting Hanuman Chalisa. It should be noted that both Navneet and Ravi Rana were arrested last month after they announced their plans to recite Hanuman Chalisa outside Maharashtra CM Uddhav Thackeray's residence 'Matoshree.'
This announcement had triggered a political stir in the state after Shiv Sena vehemently opposed the couple. Navneet Rana, who was later charged with a Sedition case by Mumbai police, was released on bail. She was then admitted to Lilavati hospital post a medical checkup and claimed ill-treatment in police custody.
Also Read: Navneet Rana & Ravi Rana to not be re-arrested; court issues notice on Govt's plea
On Saturday, Navneet Rana underwent an MRI scan and a full body checkup at Lilavati Hospital in Mumbai after complaining about the pain in the chest, neck, and different parts of the body as well as spondylitis (inflammation in spinal bones).
After her release, Navneet Rana challenged CM Uddhav Thackeray to choose a constituency and face her in the next elections. She also called the Shiv Sena government a 'gunda raj.' Ever since the blame game between Sena and Rana couple is on.