New Delhi, May 14: In one of the worst fires that Delhi has recently seen, at least 27 people lost their lives when a blaze engulfed a three-story building in West Delhi's Mundka; several people were critically injured. The building - which had office spaces - is close to the Mundka metro station. More than 50 people were evacuated to safety in a massive rescue operation; at least 12 were injured. The death figure in the tragedy is likely to go up.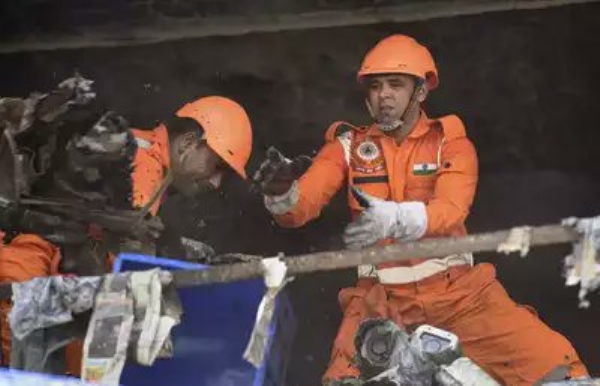 Fire chief Atul Garg said the building did not have a fire clearance certificate or NOC. The owner is on the run.
Fire-fighting and rescue operations were kicked off soon after the blaze was reported on Friday evening. The blaze reportedly broke out on the first floor of the building that housed the office of a firm that manufactures CCTV cameras and Wi-Fi routers, officials said. Two owners of the firm - Harish Goel and Varun Goel - were arrested late at night. "The building did not have a fire NOC (no-objection certificate). The owner of the building has been identified as Manish Lakra who lived on the top floor. Lakra is currently missing, teams are on the job and he will be arrested soon," DCP (deputy commissioner of police) Sameer Sharma said. The Mundka fire is one of the worst fire incidents that the national capital has seen since the 2019 Anaj Mandi tragedy that claimed 43 lives. In Mundka, fire officials said, some of the bodies were charred beyond recognition amid the horror and devastation that unfolded.
The blaze reportedly broke at around 4:40 pm near pillar number 544 of the Mundka metro station. Lakhs of people use the Delhi Metro every day for commuting. A preliminary probe revealed there was only one staircase in the building. This made it difficult for people to escape. At the time of the fire, several who were on the second floor for a gathering got trapped. Scenes of despair emerged from the site of tragedy as some people were seen jumping from the buildings in a bid to escape the flames. There was reportedly only one staircase, which made moving out of the building difficult.