How much time can you wait for someone who means the world to you? Who is a god for you? Without whom you can not imagine your world? 1 day? 2 days? 1 month? A year? Do you know for how many years, I was waiting, right in front of my Bhole Baba? I was there. I was there right from the beginning because that is my place. Go to any shiv temple, you will find Nandi, looking at shivling and praying just in front of the bhole baba. You can not enter any temple without meeting me first. And yet you were questioning baba's existence? How?
Let me answer the first question it has been more than 500 years. For the last 500 years, I was waiting for my Bhole baba. In 1669 Aurangzeb came and like any other Mughal Emperor, he destroyed us. Our culture, our beliefs, and most importantly our temples. And build his mosque there. That one fine day my baba just vanished. Everything was destroyed, only and only destruction was there. But I stayed. I stayed back and promised my baba that one day, I'll bring you back. After all I am his "Vahan". It is my duty to wait for him, and bring him back.
Was it easy for me? No, it wasn't. I saw every day, that people are doing "Vazu" at my baba's place. They were cleaning themselves and leaving that water there. This was a holy place before. But they deliberately created a mosque after distorting my baba's home. We are Hindus, we never stop anyone from creating their holy places and celebrating their religion. But they have destroyed our baba's home and built a home for their god in the same place. Is it acceptable?
Nobody saw the tears that I and many other Bhakts of bhole baba had in their eyes. I was staying there to prove my baba's existence because everyone knows where there is a Nandi, there has to be a Shiva Temple. There has to be bhole baba.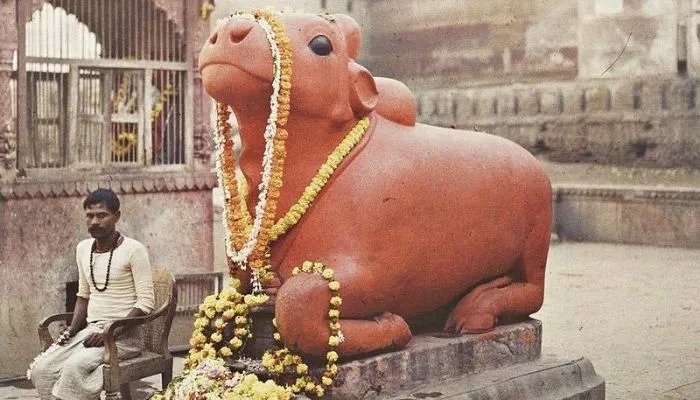 It is said that those who want to meet the Bhole Baba, have to meet me first, I take the test of their bhakti and if you pass, only then you can enter and meet Bhagvan Shiv. But sadly I couldn't stop Aurangzeb, I couldn't stop their followers, But I knew one day my existence will help my baba to come and bless this world. And this day has arrived.
No matter how many debates you do on TV, no matter how many times you scream out loud "That we lost Babri masjid, we won't let it happen again", you can't stop Bhagavan Shiv. No one can stop him. He has opened his third eye, and came back for his bhakts.
This is the final truth that Gyanvapi is built on the destroyed Shiv Mandir. And The mandir will be back there again. Because : "Satya hi shiv hai, Shiv hi sundar hai." Kashi Vishwanath hum ayenge, Shivling vahi sajayenge.
- Nandi, who will always be there with his Bhole Baba.