Panaji, May 21: Goa Chief Minister Pramod Sawant launched three helicopter services in Goa in association with BLADE India. "These services are necessary for Goa's tourism, medical emergency and commercial purposes. Tourists and locals will be able to access the service," he said.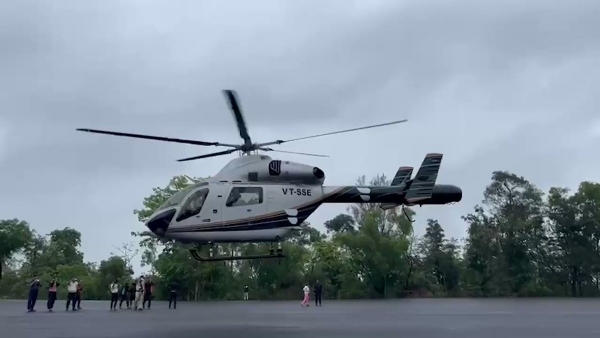 He also said, "Heli Tourism will let us explore the hinterlands of Goa like never before" and assured that the govt will gladly provide support for initiatives to promote tourism in the state.
Sawant said that even people of Kolhapur, Shirdi (both Maharashtra), and Belgaum (Karnataka) can avail the benefit by taking permission from the airports and reaching Goa avoiding the road route.
The services have been launched for inbound travellers in Goa to provide by-the-seat helicopter services by connecting Goa airport to North, South Goa and old Goa airport, private charter services from Maharashtra and within Goa and experiential flights to soak in the stunning shorelines of the state. With this launch, BLADE India intends at making Goa more accessible and navigable for travellers to discover bounties and hidden gems at their own pace.
Also Read | Pramod Sawant calls out Chidambaram for his remarks on Goa Cabinet
"Around eight million tourists visit Goa. But they don't prefer to visit hinterlands and other sites due to long distance. But now they can opt for this service and explore the tourism places. "I welcome new tourism ventures in Goa. We will help this new venture by providing all necessary permissions," Sawant said.