Islamabad, May 25: In a very shameful incident, a reputed Pakistani cricketer has gotten into dirty politics. At a time when NIA is seeking the death penalty for Yasin Malik, Shahid Afridi accused India of "silencing critical voices" before claiming that the charges against Malik were "fabricated".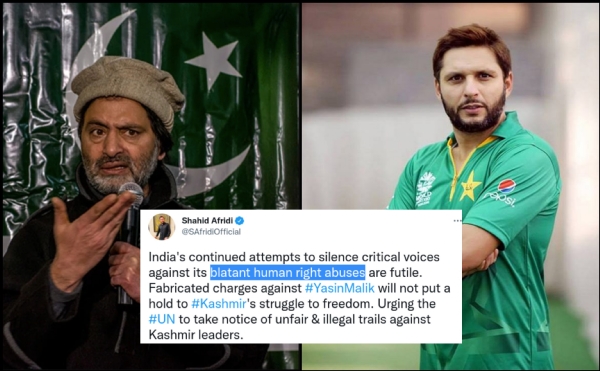 Malik, a terrorist, has pleaded guilty to all charges levelled against him. However, the Pakistani cricketer has tweeted, "India's continued attempts to silence critical voices against its blatant human rights abuses are futile. Fabricated charges against #YasinMalik will not put a hold to #Kashmir's struggle to freedom. Urging the #UN to take notice of unfair & illegal trails against Kashmir leaders".
Afridi's tweet came ahead of the Delhi Court hearing later today around 3.30 pm, which is going to decide the quantum of punishment to be awarded to Yasin Malik, who had earlier pleaded guilty to all the charges including those under the stringent Unlawful Activities Prevention Act (UAPA), in a terror funding case.
Former India cricketer Amit Mishra gave a befitting reply to Afridi after the latter put out a tweet in support of separatist leader Yasin Malik. Responding to the retired Pakistani all-rounder's accusations, he said that not everything is misleading like his birthdate, referring to the controversies related to Afridi's date of birth on official documents.
Also Read:Yasin Malik convicted in terror funding case; sentence to be pronounced on May 25
Mishra reminded Afridi that Malik himself had pleaded guilty in the court and that everything is on record for him to see and verify. "Dear @safridiofficial he himself has pleaded guilty in court on record. Not everything is misleading like your birthdate," Mishra wrote in response.
Convicted terrorist Yasin Malik pleaded guilty to all the charges in a case related to terrorism and secessionist activities in 2017 to a Special NIA Court in Delhi on May 19.