Islamabad, May 26: Former Pakistan Prime Minister Imran Khan has led Islamabad, Pakistan to destruction as tensions escalated with clashes breaking out between the government and PTI workers.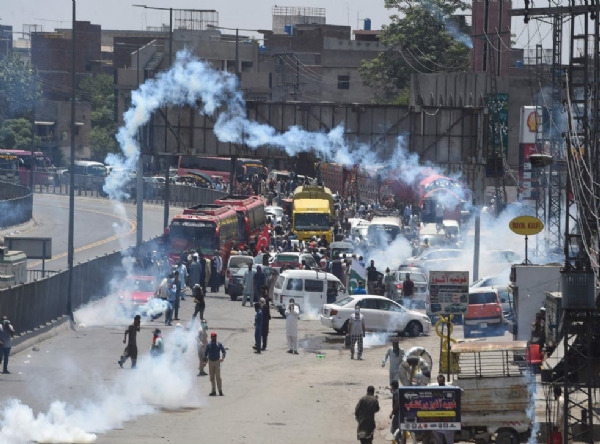 Former Prime Minister and Pakistan Tehreek-e-Insaf Chairman Imran Khan had announced the long protest march earlier this month, demanding the dissolution of the National Assembly and a date for the next general election. Khan started his long march from Khyber Pakhtunkhwa with thousands of supporters before entering Punjab to reach Islamabad.
The march that was supposed to be peaceful turned violent. Several videos, images are going viral on the internet with "Pakistan" burning this time. The PTI supporters have also set Islamabad's Metro station on fire as they entered Pakistan's capital.
PTI supporters who were awaiting party chief Imran Khan's arrival at D-Chowk in Islamabad since Wednesday entered the Red Zone on Thursday morning, police said.
Earlier,Imran Khan addressed the protesters at Islamabad's 9th Avenue and gave a six-day deadline to the government for announcing elections and dissolving assemblies and warned that he would return to the capital with the "entire nation" otherwise.
Interior Minister Rana Sanaullah tweeted a notification saying the government was "pleased to authorise the deployment" of the army in Red Zone under Article 245 of the Constitution.
Later, PTI leader Fawad Chaudhry tweeted that Imran would be addressing the protesters at the Centaurus bridge.