Jammu and Kashmir paid homage and floral tributes to martyrs of Pakistan Occupied Jammu and Kashmir (PoJK) since independence on May 8, 2022. People including PoJK refugees came to hold a rally for the martyrs. This event was named the Punyabhoomi Smaran Sabha. This event was organized at the Padma Sachdev Government Post Graduate College for Women located in Gandhi Nagar in Jammu on 8th May 2022 at 10:30 AM.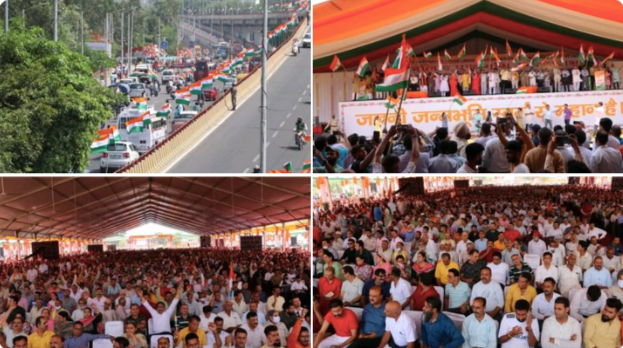 Jammu Kashmir People's Forum organized the rally. "On August 15, 1947, India was liberated after the constant struggle, sacrifices, and efforts of many great men and heroes, but then, Pakistan invaded on October 22, 1947, and killed thousands of people in Jammu and Kashmir, thousands had to leave their native land and suffer. In 1965 and 1971, many were displaced even from the Chhamb region. Let us participate in the meeting organized to pay homage to those who sacrificed during that time and to remember the holy land of our forefathers," it said.
People also called for regaining the glory of Jammu and Kashmir and ousting those who have tried to damage our cultural identity. They called for saving Sharda Temple. A campaign to remember the martyrs was initiated titled "MyPOJK".
MP Jamyang TSering Namgyal was also part of this initiative. In a series of tweets, he recalled the ancient temples were lost due to Islamic terrorism. He shared images of Sharda Temple and Kargah Buddha in Gilgit-Baltistan.
MP Tejasvi Surya also joined the campaign. "Jammu & Kashmir has seen significant progress post abrogation of Article 370 in 2019 in all sectors like education, roads, power & health. #MyPOJK campaign aims to spread awareness on impact of good governance, stability & cultural richness of J&K," he tweeted.
Union Minister Dr. Jitendra Singh shared a video of him speaking in Parliament in which he said that PoJK will be retrieved.
Prof. Sajjad Raja, Chairman of National Equality Party JKGBL, said, "A big rally was held in #Jammu today to pay special tributes to those innocent non-Muslim martyrs of #POJK who were murdered in 1947 by our forefathers in the name of religion. We are ashamed on it & submit our unconditional apology to Hindu & Sikh brothers & sisters."
Several also participated in this campaign of #MyPoJK.
A user says, If the Berlin wall can cease to exist, if Cold war can end, if Europe can become borderless then why not whole Jammu and Kashmir can become one Entity again as envisaged by Parliament resolution of 22nd February 1994. #MyPOJK"