Patna, Jul 14: Bihar Police on Wednesday busted a potential terror module with some links to extremist outfit Popular Front of India (PFI) and arrested two accused from the Phulwari Sharif area of Patna for indulging in anti-India activities.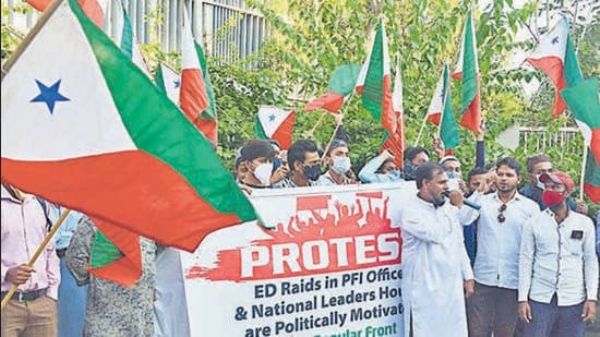 Manish Kumar, ASP, Phulwari Sharif in Patna, said an excerpt from an eight-page-long document the accused shared titled 'India vision 2047' talks about "subjugating coward majority community and bringing back the glory."
He said that two including a retired police officer of Jharkhand, Mohammad Jalaluddin, and a former member of Students' Islamic Movement of India (SIMI) who is also a current member of PFI and Social Democratic Party of India (SDPI), Athar Parvez have been arrested. In what seems like an elaborate operation, the 2 arrested accused had reportedly brought in people over the last 2 months from all over India. Hotel rooms and travel tickets were booked under fake names for these people. On July 6 and 7, Jalaluddin and Parvez trained a large group of locals how to use swords and knives under the pretext of martial arts training. They also instigated the crowd with religiously violent statements. The police have added that they have CCTV evidence and multiple witness statements. The police have also unearthed an 8-page document that underlines the PFI goal for the years ahead. In the document named 'India Vision 2047', the PFI has circulated internally among its cadre that they aim to completely dominate the 'coward Hindus' and subjugate them and this goal will be achievable even with 10% of Muslims rallying behind PFI.
They have also mentioned that they plan to launch a full-fledged armed uprising against the Indian State with the help of their trained cadre and with the help of Islamic countries like Turkey. They have also appealed to other Islamic countries for help to bring the Indian State and the majority of Hindus 'to their knees'. The police have also added that Parvez and the ex-police officer named Jalluuddin have raised funds worth lakhs for this recent endeavor.