I had read many reviews before watching Rocketry – The Nambi Narayan Effect. I was ready for the thrills and chills of a science-based movie with human element of great scientist Sri Nambi Narayanan and great performances. But I had no clue that I will come out of this movie with wet eyes and a heart bowed down with a sense of guilt.
Guilt as a citizen of this country that did great injustice to one of its greatest scientists transformed a hero into a villain, stripped him of his dignity, made his family suffer and the nation suffer.

In a masterly dedication to his craft, R Mahadevan surrenders the stage in the climax to Sri Nambi Narayanan himself. This selfless approach shows that his heart is in the right place. His respect for his hero come through in this sacrifice of an actor by the director. R Madhavan the director, never allows R Madhavan the actor to overpower his craft.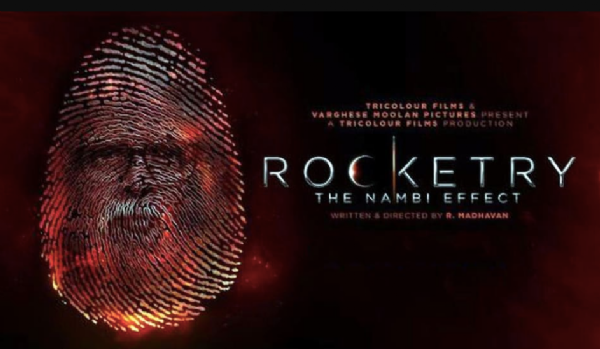 The first half of the film is like a pacy real-life thriller with wide-angle cameras spanning across the continents. Even though one doesn't understand the scientific language, one enjoys the cockiness and dedication of an exceptional scientist, the sense of comradery of scientists of different nationalities who respect each other even as they compete with each other.
The film has its own James Bond moments with the delightful cheekiness of our scientists to overcome budgetary constraints. It shows honestly, without any emotional pathos, their readiness to give up better prospects overseas and sacrifice the comforts of life; and still deliver.
The second part of the movie turns sombre and grotesque in a way. The games played by the powers that be that are not identified but only hinted at.
Petty politics of the Kerala politicians is not highlighted though there are stories abound how Nambi sir was a victim of local competitive politics of Congress and even Communists.
You sigh, you cry for the wronged scientist, for the cruel way he is treated and the suffering of his family. The tragic condition of his wife breaks you down. An outstanding performance indeed by Simran.
The film is not lavishly mounted, but is true to the plot.
In fact, the opulence of the west and erstwhile USSR and the working conditions of scientists in Bharat comes out starkly. R Mahadevan doesn't resort to any air brushing or soft focuses. Where required, he spends good amount. He deserves praise for erecting a genuine rocket testing facility with real sounds, not resorting to special sound effects. Music merges with the movie, it doesn't stand out or scream to seek attention. The movie grips you, keeps you hooked from the opening shots to the last frame.
Each actor/actress has given a natural performance, identifying self with the character. R Madhavan, the actor is a natural. The transformation from a young proud scientist who is unapologetic about his genius, his courage and readiness to take risks, cutting the corners for the nation to the violated scientist who refuses to bend; his fight for justice to regain his respect with dignity are all brought out with natural feel.
One doesn't even realize how smoothly he changes himself physically at different stages of the scientist's life.
He underplays the character, looking every bit a normal human being of great intellect with a family and a natural sense of patriotism. I am no fan of Shahrukh Khan. But I must say that he has done a great job and added gravitas to the movie in his guest appearance.
There are some thrilling and uplifting scenes that remain etched in your mind. But, as you come out, you come out with a sense of guilt and a helpless rage for the wronged scientists whom Nambi sir represents. You wonder at the utter heartlessness of the rulers of our nation who kept quiet when he was being victimised, when scientists like him were suffering, the scientific advances were being blocked. You wonder at the media with dead conscience that did not highlight and does not highlight the injustice being done to our great scientists who submit their talents and their best years to the service of this nation working for a pittance while their friends roll in luxury selling their talent to the best bidders overseas.
You feel wronged that governments of the day never felt the need to investigate the unnatural deaths of its prominent scientists.
You feel enraged that despite court rulings the governments refuse to compensate the wronged person, at the least in monetary terms, and don't even bother to offer an apology to the wronged scientists by recognising their contribution in service of the nation. How could we progress if we never respected our talents?
Nambi sir says towards the end that he will not accept an apology till he gets full justice for him and his friends.
You wonder why no government except the current BJP government under Mr. Modi felt the need to enforce his right to compensation, honour him with a Padma Vibhushan and repay the nation's debt to some extent, even if in a small way. It is time we recognise that we have erred. Yes, we owe a debt to our scientists.
R Madhavan has done us a favour by giving words to our sense of guilt and we should thank Mr Madhavan for this.