Nurturing the roots of Sanatan Dharma in the foreign land, more than 1,500 memorizers chanted Bhagavad Gita shlokas along with 700 trained fluent readers at the 'Gita Sahasragala' event. It was organized by Avadhoota Datta Peetham in Dallas, Texas on August 13, 2022, and scripted a history.
This was part of a week-long 'Gita Sahasragala' event that was organized under the divine presence of Sri Ganapathy Sachchindanand Swamiji at Allen Event Center.
More than 1,500 students from across the globe recited the entire Bhagavad Gita of 700 verses from memory. It was the largest Bhagavad Gita chanting from memory ever held and was streamed live.
Sri Ganapathy Sachchindanand Swamiji, founder of the Karya Siddhi Hanuman Temple (KSHT) in Frisco established the "Gita Mahayajna" program meaning "Gita-The Great Offering" to teach its proper Sanksrit recitation and memorization.
It was a historic moment because the event set the Guinness book of world records. According to the reports, they were practicing for this record for almost a year.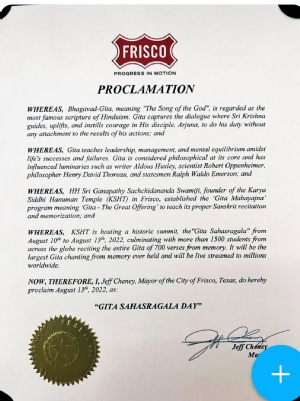 After the completion of mass chanting, a representative of the Guinness World Records presented the Guinness world record for the 'Largest simultaneous Hindu text recital' to Pujya Sri Swamiji. More interestingly, following the event, the Mayor of the City of Frisco proclaimed August 13, 2022, as "Gita Sahasragala Day".
Prime Minister Narendra Modi had earlier written a letter of appreciation to the organizer Avdhoota Datta Peetham, Dallas. In his letter, he had extended his great wishes for the historic Sahasragala Bhagavad Gita Parayana event.