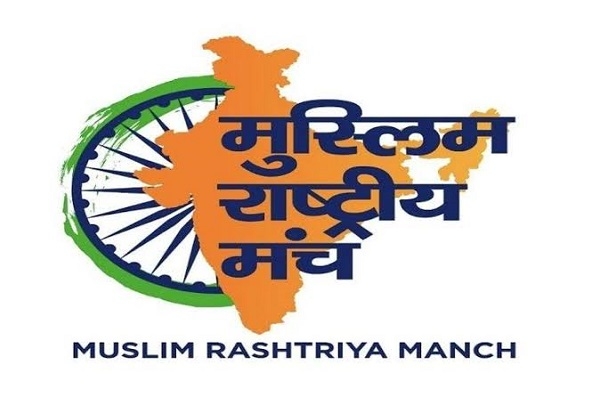 New Delhi, Aug 18: Five major Muslim organizations of the Indian Muslims namely, Muslim Rashtriya Manch (MRM), Hindustan First-Hindustani Best, Bharat First, MRM Mahila Prakoshth and Rashtriya Sufi-Shah-Malang Samaj today welcomed the Maharashtra Minister of Culture Sudhir Mungantiwar's initiative to respond to a phone call with Vande Mataram instead of conventional Hello.
Also these organizations in one voice condemned in strongest words the anti-national acts by some Muslim youths in Agra, and students of a madarsa in Barabanki in Uttar Pradesh who insulted the national tricolor and shouted slogans of "Pakistan Zindabad" on the Independence Day.
When the entire country was celebrating the "Azadi ka Amrit Mahotsava" enthusiastically responding to the clarion call given by Prime Minister Narendra Modi some pro-Pakistani youth were caught shouting Pakistan Zindabad slogans in Uttar Pradesh's Agra Town on the Independence Day.
Similarly, in Barabanki, another town in the same state, the students of Madarsa Darul Ulum Raseediya took out the rally on I-Day where some elements shouted similar slogans of "Pakistan Zindabad".
In a joint statement issued today, these five Muslim organizations stated that an unanimous resolution was passed in their emergent meeting held through videoconferencing strongly condemning these incidents and demanding stern action against those involved in these anti-National activities.
The meeting was attended by all the national conveners, Regional Conveners, State Conveners and Natioal Media convener of these organizations.
The meeting also welcomed the move of the Maharashtra Government's Minister of Cultural Affairs Sudhir Mungantiwar to respond to phone call with 'Vande Mataram' instead of conventional 'Hello'. These organizations also condemned the move by some political parties and leaders opposing this move in the state. It may be recalled that the Congress, NCP, Raza Akadami, Shiv Sena, and their leaders including MPCC President Nana Patole, NCP's Chhagan Bhujbal and Jitendra Avhad, Minister Abdul Sattar, SP's Abu Azami and their likes have opposed the move to respond to a phone call with "Vande Mataram'.
These Muslim organizations believed that chanting 'Vande Mataram' in no way goes against the teachings and tenets of the Holy Quran which says "माँ के कदमों मे जन्नत हैं" and mother is one who gives birth and the other who feeds i.e. our Motherland. "Vande Mataram" translated in Urdu-Persian means "मादरे वतन हिंदुस्तान ज़िन्दाबाद" . Hailing Mother India is also in consonance with the teachings of the Holy Quran which against says "हुब्बल वतनी निसफुल ईमान".
Therefore, those who are opposing the chanting of Vande Mataram should be condemned strongly and suitable punitive action be initiated against these elements. These organizations believed that those indulging in such activities have not only insulted the Holy Quran but also defamed Islam and maligned the Muslim community as a whole in India.
The joint release was issued by MRM National Convener Mohd. Afzal, Dr. Shahid Akhtar, Bilal Ur Rahman and Prof Mehtab Alam Rizvi of Hindustan First-Hindustani Best, Adv. Siraj Qureshi of Bharat First, Reshma Hussain, Shalini Ali and Shahnaz Afzal of MRM Mahila Prakoshth and Sufi Sayyad Shah Malang and Chnadani Shah Bano of Rashtriya Sufi-Shah-Malang Samaj.