Calgary (Canada), Aug 18: Karthikeya 2, a supernatural thriller film, is gaining applause for its hard-hitting plot and intriguing characters. The Hindi version of this movie, released for the Hindi audience, is also making noise at the box office. It is soaring higher and higher in Hindi markets, with screen counts increasing on a daily basis.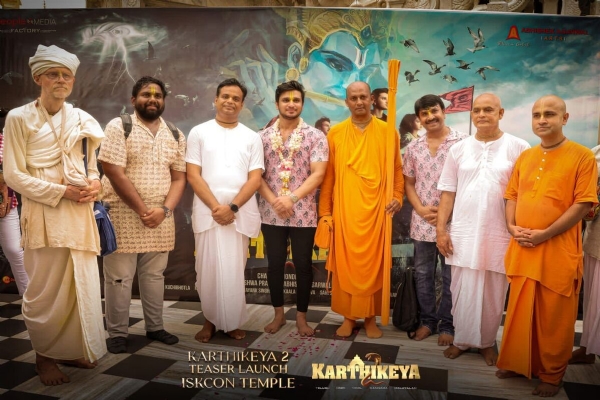 After getting praise from the audience, the makers received a rare honor that no other film in the Indian film industry has received. The International Society For Krishna Consciousness (ISKCON) Calgary has issued the Karthikeya 2 team a letter of appreciation and gratitude. Notably, ISKCON Calgary has also congratulated the team for launching the all-language teasers of Karthikeya 2 with Lord Krishna's blessings.
In a letter, ISKCON Calgary, said, "Dear Team Kartikya 2, We are delighted to write this letter of recommendation on behalf of Iskcon Calgary. We would like to congratulate the Karthikeya movie makers to produce a movie which talks about the Life & Glory of Lord Krishna."
It is pertinent to mention that Karthikeya 2 has spoken of Lord Shri Krishna and Lord Shri Ram as historical characters rather than calling them mythological characters. Speaking of the same, ISKCON said, "Historians always wanted to prove that Mahabharata and Ramayana are fairy tales from mythological texts but that's not true. Even the Archaeological Survey of India in 1984 discovered that the whole city of Dwarka 1984 was submerged under the sea."
"They discovered the whole city of Dwarka under the sea and this movie is based on that. Ramayana and Mahabharata are our history, these are our history books. Thanks 'Kartikeya 2' team for this endeavor and may the entire team get the blessings of Sri Sri Radha Madhav Ji. We wish you all the best for the success of this movie and for all your future projects to glorify Lord Krishna and presenting it to the world," it added.
Further they also congratulated the team for releasing the teasers of the film from ISKCON Vrindavan. "We would also like to congratulate the entire Kartikeya 2 team to launch the teaser of the movie from the holy land of Vrindavan in front of his lordship at Iskcon temple. We hope you continue to pursue the similar plans and may lord Krishna be your guide in all your future efforts," it said.
The Telugu film 'Karthikeya 2' which is the sequel to the 2014 film Karthikeya has outclassed Aamir Khan starrer 'Laal Singh Chaddha' and Akshay Kumar's 'Raksha Bandhan'. Being a mystery adventure saga, the film revolves around Lord Shri Krishna and showcased Indian culture like never before. The concept of Shri Krishna as a historical character seems to have really clicked with the audiences.
The film stars Nikhil Siddharth and Anupama Parameswaran along with thespian Anupam Kher, Srinivas Reddy. Aditya Menon and Viva Harsha also play pivotal roles. Directed by Chandoo Mondeti and produced by TG Vishwa Prasad and Abhishekh Agarwal