"Amra ki apraadh koray chiloom" - What crime did we commit? cried the 10 year old Hindu girl of a deceased mother who was raped and butchered in Bangladesh. The video of the little girl's trauma is making rounds on Twitter.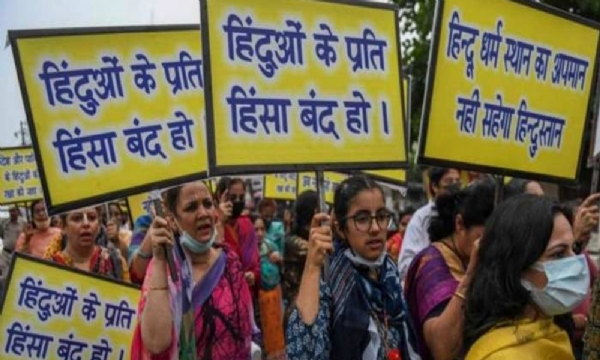 In yet another tragic incident a Hindu woman from Bangladesh was raped and later butchered. It is being assumed that the crime was committed in front of the 10 year old daughter as the little girl was found unconscious lying next to her mother's nude and abused dead body. The reason for the committed crime is the victim's Hindu identity.
It is really heart breaking to see a 10 year old girl cry about what has been her sin? At the same time, the tragic incident also explains how insensitive the world has been to the atrocities happening in Bangladesh against Hindus, that are rooted to nothing else but Hindu hatred.
For someone living in comparatively much safer social environment for Hindus like India, it is hard to even imagine being killed for the only sin of being born with a 'Hindu' identity. However, this nightmare is a reality for Bangladeshi Hindus. And this is not even the first time for this to be happening in Bangladesh.
Hindu life in Bangladesh has been no less than an imprisonment or even worse, living in a concentration camp since almost a decade, with religious atrocities only getting more and more severe and traumatic in nature. The recent incidents of violence against Hindus of Bangladesh have shook the spine of individuals aware of the incidents.
Recently, another Hindu girl from Bangladesh was abducted and killed by a person. The murderer also later posted her picture on Facebook declaring that she was dead. The deceased girl was identified as Anuradha Sen who belonged to the minority Hindu community in Nalitabari Upazila of Sherpur, Bangladesh.
In a prior incident, extremists had set the houses of Hindu Bangladeshis in Chittagong's Sitakunda Upazila on fire, leaving around 10 families completely destitute. A day before the burning incident, the issue was raised in India, asking the External Affairs Ministry to take a stand against the Hindu genocide in Bangladesh. Suvendu Adhikari, who raised the issue said; "Unfortunately the Hindus are living in fear, waiting like sitting ducks for the next attack to happen. This cannot go on in a civilized society in this day and age," and precisely sum up the gravity and upheaval of the ongoing genocide.
When Vivek Agnihotri equated Kashmiri Pandit genocide with that of the Jews in World War II, the idea was unacceptable to liberals and so many more Indians who are not even liberals ideologically, but are unconsciously wearing liberal glares that is forcing them to deny the humanitarian crisis that Hindus are facing globally. India has remained a safe house for Hindus, so definitely it is going to take more than ordinary efforts to understand the gravity of the situation in Bangladesh as expressed by Suvendu Adhikari. But to begin with, the crimes of Hindu hatred happening in Bangladesh at least need to be accepted with their actual cause before acting against them. They need to be addressed effectively not only as acts of communal violence but of Human rights violation as well.
Despite of such traumatic incidents, the world, including Hindus around the world, is doing nothing to stop the violence against Bangladeshi Hindus but standing still and enjoying the show like spectators. As a global community Hindus are viewed as such milder extremes, that there is one community that claims every other follower of other religion as a 'qafir' and uses every way to establish their superiority, justifying it as 'jihad' and then there are Hindus, who are nothing else than silent spectators of the violence happening against them. Violence need not be ended with violence, there are other means to do that, but only when there is no denial of the fact that your existence as a human is being abused.