In March 2011, an earthquake and a tsunami caused severe damage to the Fukushima nuclear power plant in Japan. The radiation release was the worst since the 1986 Chernobyl accident. More than 150,000 Japanese people had to be evacuated from their homes. The tremors of the earthquake and the radiation release frightened far away Germany where its Chancellor Angela Merkel took a decision to temporarily shut down 8 of its 17 nuclear reactors, which produced one-quarter of the country's electricity. Merkel being a proponent of nuclear energy took a complete U-turn and announced this decision. Since then, Germany has been hailed as a global environmental leader.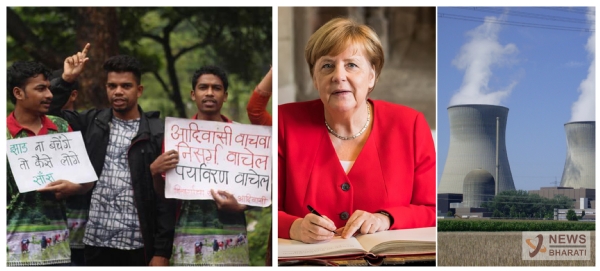 But the reality is far from rhetoric. Germany's top power source in 2021 has been coal providing for 27% of its electricity. The second major source is wind. It is also burning more natural gas, 40% of it is imported from Russia. The haste to close down nuclear plants has resulted in Germany burning more coal and importing more natural gas. The result is – Increase in carbon emissions over the past two years and missing its emissions target while simultaneously endangering the national interests by depending more and more on Russian Gas.
Climate change activists deserve credit for addressing the problem and starting a movement to create an awareness of the same. Obviously, these activists have dominated the debate regarding the solutions to curb emissions, influencing decision-makers (politicians) and the common people. So whatever doesn't fit in their definition of "green" is termed as not green. Nuclear energy is one such thing. It is not the preferred solution for these activists. So nuclear energy has been demonized all the way along despite being a proven source of zero-carbon energy, weather-independent, safest, and the least polluting one. But for those who live in a denial mode, nuclear energy becomes an inconvenient truth. The denial has reached such insane levels, that those who support nuclear energy as a climate action solution, are branded as right-wing extremists. This happens when any movement (climate change, feminism, etc.) is hijacked by people who are ideologically leftists or as PM Modi once said, 'Andolanjeevi'. These people have a proven track record of doing nothing at all, instead, denying and demonizing anything that doesn't fit in their preferred solutions.
Thousands of miles far away from Germany, we find similar traits in the activists of the Save Aarey project. These activists, most of them gullible and ignorant, think that planting trees is the only solution to reduce emissions in Mumbai. An eco-friendly public transport system like the metro doesn't fit into their definition of "climate action". This denial has resulted in litigations (in a country like India, where the justice system deserves to be termed as a circus), an increase in project costs, loss of lives due to overcrowded local trains, and the most important – increase in emissions due to vehicular traffic.
Germany's biggest mistake of shutting down nuclear plants has done more damage to the environment and consequently to the global climate change movement. It has become a fine global example of succumbing to the anti-nuclear lobby of activists and doing the exact opposite of what its mission has been – reducing emissions. Instead, Germany has seen an increase in its emissions. A city like Mumbai cannot afford to lose a green project like the Mumbai Metro. It cannot succumb to the fraudulent activism of the Save Aarey movement. This would result in a tremendous increase in vehicular emissions and defeat the very purpose of the whole climate change movement.