New Delhi, Jan 24: With two days left for Republic Day 2023, the full-dress rehearsal for the parade was held in the national capital on January 23. The rehearsal began at around 10:30 am from Vijay Chowk and passed via Kartavya Path, C-Hexagon, the roundabout statue of Netaji Subhash Chandra Bose, Tilak Marg, Bahadur Shah Zafar Marg, and Netaji Subhash Marg before concluding at the Red Fort.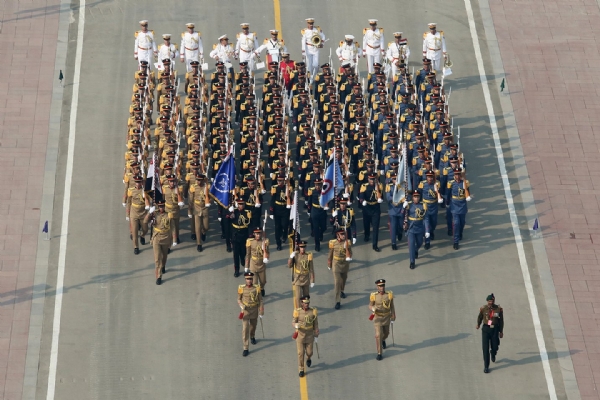 Braveheart soldiers of the country were seen marching on the Kartavya Path. In addition to soldiers, military vehicles such as tanks, and equipment such as missiles, along with cultural tableaus, were also paraded.
Bharat will celebrate its 74th Republic Day on January 26. The R-Day's Chief Guest this year is Egypt's President Abdel Fattah El-Sisi.
A military contingent from Egypt also participated in the Republic Day parade. According to Army officials, the Egyptian contingent that will take part in the Republic day parade is from all the three services of Egypt - Air, Army, Navy.
As many as 180 military personnel from Egypt are expected to be part of Republic Day parade during President Abdel Fattah El-Sisi's visit as the Chief Guest on the occasion on January 26 underlining growing defence partnership covering slew of sectors including joint exercises and military-industrial cooperation.
The Garud Special Forces of the Indian Air Force will be marching on the Kartavya Path during the Republic Day parade for the first time. Squadron Leader PS Jaitawat will be seen leading the Garud squad as part of the Indian Air Force contingent.
The army will also showcase made-in-India missiles during the parade. The fly-past will include 45 IAF aircraft, four from the Indian Army, and one from the Indian Navy.
Regarding the fighter jet formations, which are one of the major highlights of every year's parade, there will be 13 formations like arrow, abreast, arrowhead, diamond, and others by aircraft like Mig-29, Rafale, Jaguar, SU-30, etc. Apart from Indian Army soldiers parade and weapons display, colorful tableaus depicting vibrant Indian cultures will also parade at the Kartavya Path.