New Delhi, Jan 24: Reacting to the Supreme Court's decision to make public the RAW and Intelligence Bureau (IB) reports on the appointment of judges in the High Courts, Law and Justice Minister Kiren Rijiju on Tuesday (Jan 24) said putting RAW and IB inputs in the public domain is a matter of serious concern.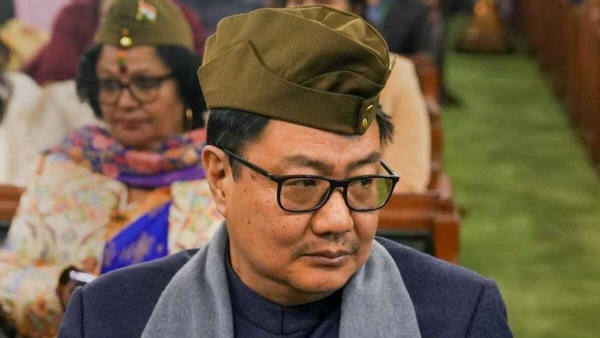 While addressing a press conference on the awards for eCourts Projects, Kiren Rijiju expressed happiness regarding the good work done by the Department of Justice and the impact it has in dispensing justice to the people. On recent comments made by Supreme Court regarding a delay in the appointments on the Collegium recommendations, the Law minister Kiren Rijiju said, "No one should make a comment on a judicial order."
"..But, these are administrative orders and not judicial. I have seen some tweets that are making comments about NJAC is contempt. The order of the bench is totally different and this is all administrative." During the media interaction, Law Minister also raised the issue of the pendency of cases and said, "the total pendency is 4 crore 90 lakh cases in the country. Pendency in cases implies to delay in Justice. Justice delayed is justice denied."Rijiju said, "Delivery of Justice is a crucial aspect. The only way to reduce pendency is a coordinated effort of the government and the judiciary."
The Law Minister further added, "The pendency of a huge number of cases is a matter of concern. The pendency of cases is a major concern, technology is a major solution. We are also considering Alternate Dispute Resolution and mediation." Recently, the Supreme Court Collegium has resolved to reiterate its recommendation dated November 11, 2021, for the appointment of Saurabh Kirpal as a Judge of the Delhi High Court and stressed that it needs to be processed expeditiously.
--