Amid the auspicious Hindu festival of the Navrati which is dedicated to Maa Durga and all forms of the feminine divine, #NoBindiNoBussiness has once again started making noise on social media, after South Indian clothing brand, Nalli Silks featured its model without the bindi in the advertisement.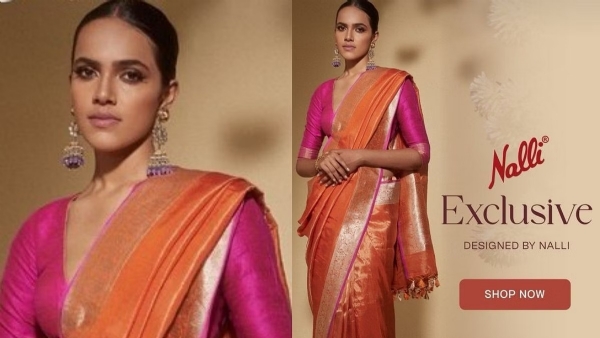 The controversy unfolded after a social media user named D. Muthukrishnan who is also a Certified Financial Planner (CFP) brought the advertisement to light through social media.
Taking X social media, he tagged the author Shefali Vaidya who started this whole #NoBindiNoBusiness campaign two years back, saying "Look at this advertisement. Even a traditional firm like Nalli uses a model who is not wearing a bindi and looks morose. Doesn't look like a celebration."
In the promotional piece, the model wore an authentic silk saree designed by the brand and wore minimum ornaments to style herself. Of all, what caught the attention of people was her empty forehead that lacked a bindi.
Responding to the D.Muthukrishnan tweet, Vaidya targeted the Indian clothing brand saying, "Sad to see even a brand like @NalliSilk falling for the grumpy, no-bindi, mourning look!"
This led to an outrage on social media upsetting people. Netizens asked whether the saree was meant for celebrations such as Navratri or a mourning phase. "Nice saree, but wearing it to a funeral?" tweeted the X user.
This latest incident just came a day after HDFC landed in a similar kind of controversy for subtly running their Islamic terminology by giving an order twist to the Hindu Culture. The commercial aims to raise awareness about financial fraud, but received backlash with netizens accusing the bank of being 'anti-Hindu'.In that 'Vigil Aunty' campaign advertisement, the HDFC depicted a woman wearing a Bindi designed as the universal prohibition sign.
This advertisement stunned many social media users, some of whom raised questions about HDFC's thoughts on representing Hindu culture in a disrespectful manner.
About #NoBindiNoBusiness
The #NoBindiNoBusiness campaign was started in 2020 by the Famous columnist and writer Shefali Vaidya through her Twitter. This all first started when American clothing brand Fab India, launched their 'Diwali clothing collection' for Hindu Festival with the Urdu name 'Jashn-e-Riwaaz'.
While becoming the grand example of Secularism, just like the Urdu Name, the brand advertisement which was meant for a Hindu Festival has no representation of Hindu traditions. Models in those ads were seen wearing red coloured clothes but with No Bindi and mourning faces.
This cultural appropriation doesn't go well Shefali Vaidya, who then decided to raise her voice against it. On October 20, Shefali Vaidya tweeted, "Speaking for myself. Not buying anything for #Deepawali from ANY brand that shows models without a bindi. #NoBindiNoBusiness."
Soon her tweet with the hashtag #NoBindiNoBusiness was seen by more than 11 lakh people, and the hashtag reached more than 20 lakh people. It made an impact. The impact of the campaign was so powerful that brands like 'Fab India', and 'Tanishq' which were promoting their products for Hindu festivals by not respecting Hindu values and traditions, had to take down their ad fearing the campaign.
It should mentioned that, the tiny coloured bindi on the forehead is not just associated with good luck but it is part of out Hindu Tradition.
Around 3000 BC, the rishi-muni (ancient seers of Hinduism) wrote the Vedas, in which they described the existence of areas of concentrated energy called the chakras. There are seven main chakras that run along the center of the body, and the sixth one (called the ajna chakra, the "brow chakra" or "third eye chakra") occurs exactly where the bindi is placed.