In a major development which has sent shock waves across the country, founding member of the Hamas terrorist group, Khaled Mashal on Friday virtually addressed a pro-Hamas & anti-Israel programme organised in Malappuram, where he instigated the Muslims against Jews and Hindus.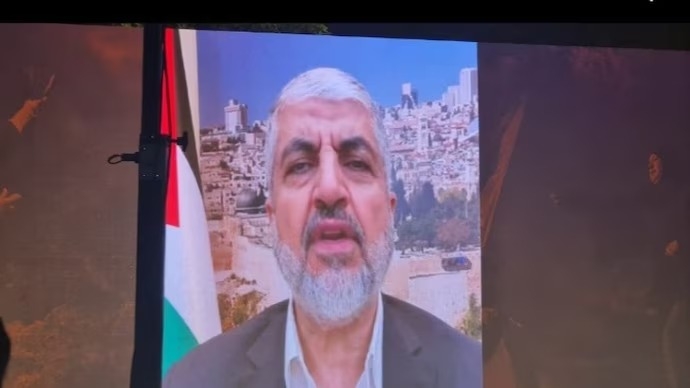 For unreserved, Malappuram with a 71% Muslim population is infamously known as Mini Pakistan. The program titled 'Youth Defence' was organised by Solidarity, the youth wing of Jamaat-e-Islami. This incident has triggered outrage after a video of it went viral on social media. In a video, the Hamas leader Khaled Mashal could be seen addressing the people.
In his speech, Khalid asked people present at the rally to extend unconditional support to Hamas and made anti-Hindu comments. Shockingly, the slogan 'Uproot Bulldozer Hindutva and Judaism' was also raised during this meeting,
Khaled Mashal is a leader and former head of the Palestinian terrorist outfit Hamas. He rose to prominence as the head of Hamas's branch in Kuwait following the group's formation in 1987. He became the leader of its politburo in 1992 and one of its founding members. He was acknowledged as the head of Hamas following Israel's assassination of Sheikh Ahmed Yassin and his replacement, Abdel Aziz al-Rantisi in the spring of 2004.
Meanwhile, Mashal's virtual address at the rally was condemned by Bharatiya Janata Party (BJP) State President K Surendran, who questioned the Kerala Police and also sought action against his participation. Taking to X, Surendran said, "Hamas leader Khaled Mashel's virtual address at the Solidarity event in Malappuram is alarming. Where's Pinarayi Vijayan's Kerala Police? Under the guise of 'Save Palestine,' they're glorifying Hamas, a terrorist organization, and its leaders as 'warriors.' This is unacceptable!"
It should be noted that yesterday Congress Working Committee (CWC) member and Lok Sabha MP Shashi Tharoor while contradicting its party's stand called Hamas a terrorist organization. He made these remarks while addressing Indian Union Muslim League's rally supporting Palestine.
.
.