In yet another example that proves that Chief Minister Pinarayi Vijayan's led-Communist govt always provides a safe haven to the terrorist and Islamic radicals, Kerala Minister VN Vasavan has now tried to mislead the people about the casualties that were caused due to the blast.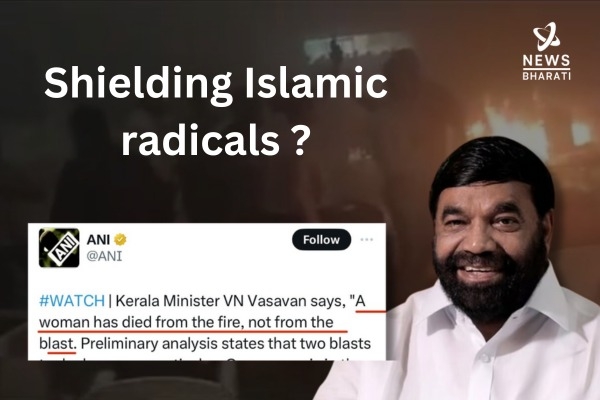 It should be noted that a series of
blasts were reported
at a Christian group's convention center in Kerala's Kalamassery on Sunday morning, leading to the death of one person and injuring over 40 others, as reported by local police.
A church program was underway at the convention center. Eyewitnesses have stated that three explosions were heard in the area. A high alert has been issued in the entire state following the blast. Meanwhile, the reasons for the blast are not yet known, police are investigating.
While speaking about the blast, Vasavan claimed that the woman died from the fire, not the blast.
Kerala Minister VN Vasavan says, "A woman has died from the fire, not from the blast. Preliminary analysis states that two blasts took place consecutively... One person is in the hospital... 36 people are in the casualty, admitted to Aster medicity, Rajagiri and Sunrise. It is an unusual accident. All agencies are here for preliminary examination."
Meanwhile, a four-member National Investigation Agency (NIA) team, together with local law enforcement, is currently investigating the incident.
Union Home Minister Amit Shah spoke to Kerala CM Vijayan to take stock of the situation and also directed the NSG along with the National Investigation Agency (NIA) to reach the spot for investigations.