In a shocking development, members of the so-called peaceful community (Muslims) illegally claiming ownership of Kanifnath Temple, in Maharashtra, launched an attack on the Sadhu and devotees for performing Bhajans on the occasion of Diwali at the temple.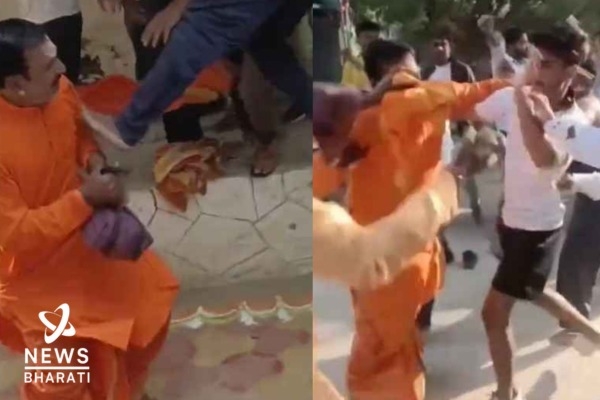 The incident took place in the village Guha of Rahuri tehsil in the Ahilya Nagar district of Maharashtra. This came to light after the video of the incident which took place on the 13 November, went viral on social media.
As per the media report, on the occasion of the Deepavali Amavasya, Hindu Sadhu and devotees arranged Bhajan and Kirtan at the temple. Irked by that development, a mob of Islamist extremists led by the Raju Sheikh, Rajjak Sattar, Nasir, and Ibrahim attacked them in the early morning.
They attacked the Hindu priest Shankar Kishan Majre and devotees with sticks and rods. It is being reported that some devotees were also injured in this unexpected incident.
In a viral video, Islamists can be seen hitting the Hindu devotees and also slapping women who had arrived at the spot to perform Bhajans. Moreover, the crowd could also be heard saying 'kill him' while beating the priest in saffron clothes.
The police reached the spot immediately after being informed about the incident. The accused persons in the mob fled from the spot after seeing the police.
Later the Hindu community in the city came to know about the incident after which they gathered at the location and demanded strict action against the accused.
The police have registered a case based on the complaint filed by Hindus and have begun an investigation. There is no information about any arrests yet. Police say that action is being taken against the accused. There is peace in the village at present.
What is the conflict?
It should be noted that the Waqf Board illegally encroached the 40-acre land of the 400 years old Sant Kanifnath Samadhi Temple and started calling it as Dargah of the Pir. They not only grabbed the land but
remove the mention of Kanifnath Samadhi Temple from the documents.
The Hindu community alleges that about a year ago, some people of the Muslim community removed the saffron clothes placed on the Samadhi of Saint Kanifnath and spread a green sheet on it instead. Since then, there has been tension at this location.