In a shocking development of Andhra Pradesh, where the Christian missionaries fearlessly did their conversion work, now it has come to light that where local church ironically used the sacred Hindu Temple tank to convert local Hindus to Christianity.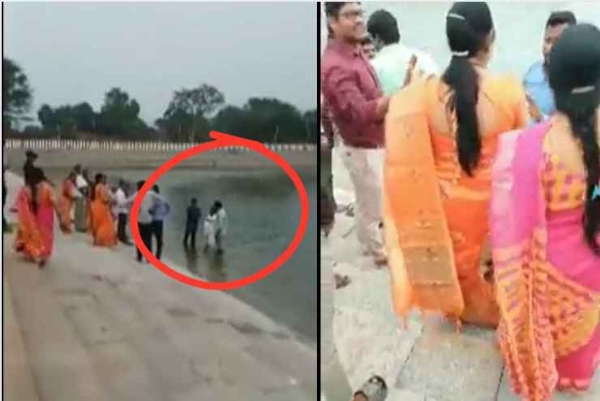 The news broke into the mainstream media after the video of the incident went on social media, raising questions about the state government.
As per the reports, the incident took place in the Karvetinagaram village of Chittoor district. The locals had complained against the Local church.
As per the FIR, the church authorities were using Sri Venugopala Swamy temple's Skanda Pushkarni at Karvetinagar, Chittor Temple to perform baptism on Hindus. The temple is administered by
Tirumala Tirupati Devasthanams (TTD)
.
Taking the cognisance of the matter, the Bharatiya Janata Party (BJP) state spokesperson P. Bhanuprakash Reddy, demanded appropriate legal action against the church authorities.
Addressing the media after visiting the Pushkarani to investigate on Tuesday, the BJP leader demanded that the TTD and police identify the pastors who tried to convert people and take appropriate legal action against them.
He suggested that penal action could be taken against the pastors as per GOs 746 and 747 for violating the sanctity of religious places. He demanded a comprehensive security audit of all TTD and Hindu shrines. Stringent security measures must be ensured so that public order is not disrupted and communal harmony is preserved.
It should be noted that the southern state led by Jagan Mohan Reddy, has been witnessing conversion cases. It should be thought the Christianity has had strong roots in Andhra Prades since the 18th century, however, their large-scale commercialization only began under the Congress government of YSR.
Due to the state government's soft stance on conversion Christian mafia are working fearlessly and even have ramped up Christian conversions in the state. A vast majority of SC/STs in Andhra Pradesh have converted to Christianity in the last couple of decades.
What Data Says?
There are two major types of
Christianity: Catholic and Protestant.
Within Protestant tradition, there are multiple branches and one of the largest is Lutheran Church. Fortunately, this Church reveals some data on its website. It says that it has 3,000,000 (three million or thirty lakh) members in just Andhra Pradesh. So the number of about 7 lakh is already surpassed in one branch of the church.
.
.