US Secretary of State Antony Blinken was caught on camera visibly wincing and shaking his head after President Joe Biden called his Chinese counterpart Xi Jinping a "dictator" following the two presidents' four-hour meeting on Wednesday (November 15).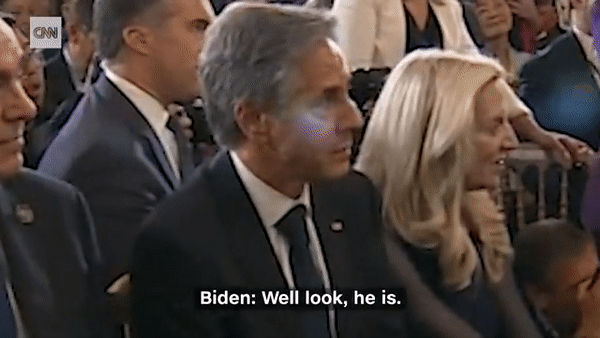 A clip of the moment, which has been shared widely on social media, showed Blinken fidgeting with his fingers and breathing deeply as Biden was asked if he would still refer to Xi as a "dictator" - a term the US President had used earlier this year.
In the clip, Blinken appeared to grimace and had slightly furrowed eyebrows as Biden made the remark. The US Secretary of State was also caught blinking his eyes rapidly and looking at Biden with a worrisome look on his face.
Biden's remark came soon after his and Xi's four-hour meeting in San Francisco, which was the two leaders' first in-person sit-down. To the question of Xi still being a "dictator" to him, US President said, "Well, look he is."
"He is a dictator in the sense that he is a guy who runs a country that is communist," Biden said, adding that the Chinese government "is totally different" than that of the US.
The US President's remark came as his country and China try to mitigate their differences. Xi told Biden on Wednesday that both countries should be fully capable of rising above their differences as they attempt to get bilateral communications operational following a tumultuous year.
A senior official of the Biden-led administration said that the meeting was open, frank, and candid, news agency PTI reported. The two leaders were able to discuss a host of issues including bilateral ties, regional and key global issues such as Iran, the Middle East, Ukraine, Taiwan, the Indo-Pacific, economic issues, artificial intelligence, drugs, and climate change.