Life after the marriage
Baya's first son was born in the Mangalwar hospital,( it still works and is run by our municipal corporation, known by the same name ) . It was a medically supervised delivery. He was named as Shankar, Pandita Ramabai suggested the name as she had special affinity for Baya.
Anna was a fellow in the Ferguson college then, initially Baya had to face great resistance from the people around in Pune too. Baya did not seem to have reacted, probably she was prepared for the social backlash.
Baya's sister Parvati Bai Athawale who was a widow came to Pune and stayed with karve family for the education of her son. She too joined Hujurpaga school. Baya too started her education again,she stayed in the school boarding, her son Shankar too was with her.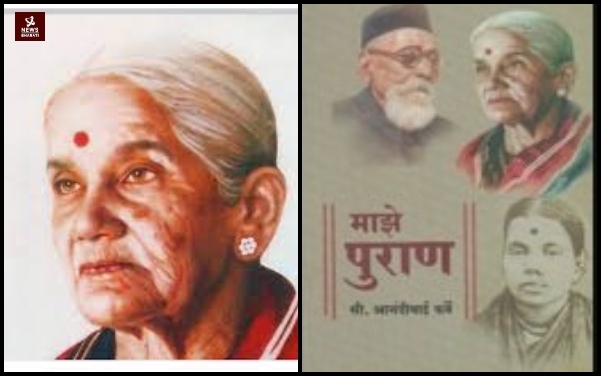 Shankar was hardly two and half an year old when plague broke out in Pune. ( after the costal cities, plague spread to the inland city of Pune and in February 1887 the mortality rate was double the usual epidemic norm, the city was known as Poona then ) Anna sent Baya to Amarawati and he went to stay with Agarkar ,the principal of Ferguson college. But after some time Parvati Bai and karve too shifted to Amarawati. Once the situation in Pune was better,all returned to Pune.
When Baya heard of 1 year midwifery diploma to be conducted by Daferin hospital in Nagpur,she thought of enrolling for it. Obviously Anna sent an application in her name. When she was granted admission, Anna made arrangements for Baya to join the course.
Lectures were in Hindi,Baya was not well versed with it,but she started learning Hindi,refered the notebooks of the classmates. Some doctors taught in English,she had a great difficulty in understanding it,but she wanted to get the certificate as she thought this could help her in earning money, she wanted to be of some help to society and obviously wanted to earn a little status. Though she could speak a little but couldn't take down the notes. She completed the course successfully and returned to Pune.
Later when she started working and helping women around, people too changed their attitude to an extent.
When Shankar was ten months old Ms Hamlin from America asked Anna whether Baya could go to America to study medicine. Anna's condition was to leave Shankar in Pune ,she could not digest it and refused. (had she been to America and returned with the medicine degree,the picture might have been totally different)
In 1896 Anna established the Ashram to help women take education. 1899 girls started enrolling, it was a rented space in Sadashiv peth, till few years ago there was Brahman Mangal karyalay in Sadashiv peth ,this Wada was owned by Shri Vinayak Gore then.
Anna taught girls early in the morning,but after the plague broke out and the Ashram had to be shifted to Hingane. Anna asked Shri Ganesh Gokhale to spare some space on his land there,he readily gave the consent.
Ashram follwed all the necessary age-old customs, women's education was the only focus. New ideas and reforms were no doubt necessary but no one wanted to vetiate the the social surrounding which would pose a problem. Thus Ashram was kept at a distance as far as the social reforms were concerned.
Even Baya was not allowed to touch the drinking water,nor was she allowed to discuss anything about the widow remarriage. Baya stayed back in Pune,( Hingane and Pune were two different entities then ) she would clean the grocery and vegetables for Ashram inmates. Besides this some orphans who had nowhere to go, deceived or people with the advantaged situation used to come to Baya for shelter. She too helped them. The cases Baya wrote about in her book are still found in our society even today. ( can we claim that the time has changed, exploitation has stopped? We still have a long way to go. )
Baya worked in the Ashram like any other women, grinding jowar and paid for boarding whenever she would be at Hingane. ( There were hardly any flour mills then )
Initially Baya expected some respect in the sanstha as it was established by her husband. She wanted to work at the ashram,but the aim of sanstha was women's education,and there was a little resistance too. Baya was kept away from the work , as she was not allowed to touch drinking water, she stored drinking for herself,she could not dine with other inmates, thus there was no active role for her in the Ashram. She noted this with heavy heart but the time, which was the best healer, mitigated the hurt feelings.
Baya had to endure this pain for a long time. Her journey was not easy,the only solace was she had a family, children and Anna on her side. Of course there were some people who supported Anna and his ideas. At no point of time did she criticise the people. On the contrary she helped Anna in every project with all her might.
Baya's second son was born in Hingane, Shankar was 10 years old then. He had fever and it persisted for 40.

Though Shankar was very young she had moved to lonawala, it took a month for Shankar and Bhaskar ( the second son ) to recover. Baya returned to Pune in Narayan peth area.