Hey there, Binge-Watchers!
It's been so long since we last met. I hope you had an amazing Diwali and had lots of food, fun, and parties. It was tough getting back to work after all the fun, but if you have been lucky enough to get the whole week off, congratulations, you lucky fellows.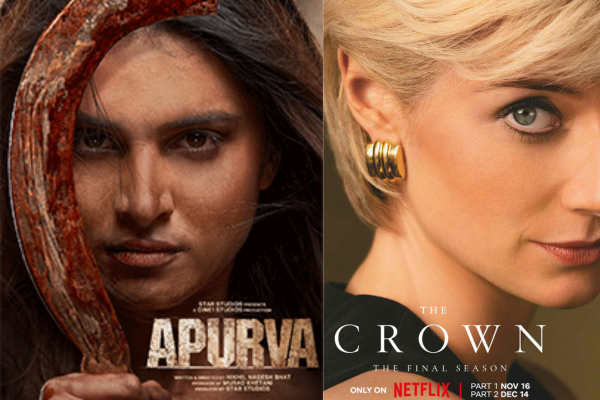 The weekend is here and we have a wide range of options for you to binge-watch and relax. So are you ready to kick back, grab some snacks, and dive headfirst into a weekend of epic TV escapades? Well, hold onto your remotes because I've got the ultimate rundown of shows that will keep you glued to the screen from start to finish.
So what's on your weekend binge-watch list?
Apurva
Directed by Nikhil Nagesh Bhat, starring Tara Sutaria, Abhishek Banerjee, Rajpal Yadav, and Dhairya Karwa play a key role in the thriller. The film is set in Chambal and tells the tale of an ordinary woman who, in the face of extraordinary circumstances, will stop at nothing to stay alive.
Where to watch? Disney+Hotstar
Genre- Thriller
The Railway Men
With a stunning cast, starring R. Madhavan, Divyendu Sharma, Kay Kay Menon, and Babil Khan, The Railway Men is created by Shiv Rawail. Following a lethal gas leak from a Bhopal factory, brave railway workers risk their lives to save others in the face of an unimaginable tragedy.
Where to watch? Netflix
Genre-
Drama, History, Thriller
Pippa
Directed by Raja Menon, and starring Mrunal Thakur, Ishaan Khattar Pippa is a story of Brigadier Balram Singh Mehta of the 45th Cavalry tank unit served on the eastern front with his siblings during the Indo-Pakistan war of 1971.
Where to Watch?- Amazon Prime Video
Genre-
Action, Drama, History, War
The Crown Season 6
Season 6 of the critically acclaimed series The Crown is finally here. The season is divided into two parts, part one revolves around the death and the last 8 weeks of Princess Diana's life.
Where to Watch?
- Netflix
Genre-
Biography, Drama, History
Leo
Starring Joseph Vijay, Kamal Haasan, and Sanjay Dutt the story of Leo revolves around Parthiban a mild café owner in Kashmir who repels a band of homicidal thugs and attracts the attention of a drug cartel that claims he was once a member of the.
Where to Watch?
- Netflix
Genre- Action, Crime, Drama, Thriller
That's it for this time guys. Hope you like it, if not there's always sports and books. The ICC Men's Cricket World Cup is coming to an end, and IT'S THE FINALS this Sunday. Let's hope the Men in Blue get the cup home.
Remember, no binge-watching session is complete without snacks and good company, so text your squad, stock up on popcorn, and press play. Enjoy the weekend and happy streaming!
I'll see you next time.