Ending 40 years of leftist rule and rolling the dice on an outsider with radical views, Javier Milei, a right-wing libertarian and first-term congressman, has won a decisive victory in Argentina's presidential election.The election came when Argentina was witnessing rising inflation and an economy in crisis.
Milei's win has shaken up Argentina's political landscape. Milei won 56 per cent of votes as compared to his rival opponent Peronist economy minister Sergio Massa who conceded after getting 44 per cent of votes.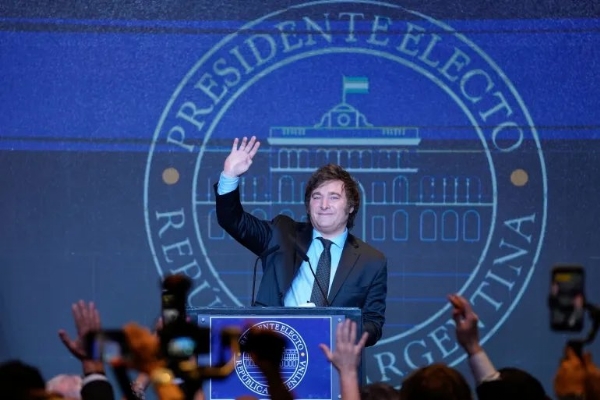 After winning the election, he vowed "drastic" changes to the country's economic strategy amid its worst crisis in two decades. "Today is the end of Argentina's decline," Milei told a crowd of supporters at the Libertador Hotel in Buenos Aires on Sunday.
"Today is the end of the model of an omnipresent state that impoverishes Argentines."He pledged swift reforms to the country's fragile economy. "I want you to understand that Argentina is in a critical situation. The changes our country needs are drastic. There is no room for gradualism."
Milei is a newcomer to politics, just winning a seat in Congress two years ago with his ultra-conservative libertarian party Freedom Advances. He describes himself as an anarcho-capitalist and pledged to battle Argentina's staggering inflation, now at more than 140%, by replacing the peso with the dollar and abolishing the Central Bank.
The 53-year-old president-elect is known for his bold statements.
During the election, he referred to China, Argentina's largest trading partner, as "murderous". He further described Argentine Pope Francis as "a filthy leftist" and a supporter of communists.

Moreover, he also called climate change "a socialist hoax".
Who is Javier Milei, Argentina's new President?
Born on October 22, 1970, Javier Milei has been described as populist, right-wing libertarian, ultraconservative, far-right, and ultraliberal. However, he identifies as a liberal libertarian, aligning specifically with minarchist and anarcho-capitalist principles.


Milei is pledging economic shock therapy as he has plans to abolish the Central Bank of Argentina which would result in a de facto dollarised economy and a comprehensive overhaul of the country's fiscal and structural policies. He strongly opposes abortion - even in cases of rape. Melei has earlier suggested a referendum to reconsider the 2020 law (Voluntary Interruption of Pregnancy Bill) that legalised abortion.


Melei has also criticised comprehensive sex education and calls it a form of "brainwashing". He supports civilian firearm ownership, proposes to legalise the sale of human organs, and promotes the far-right cultural Marxism conspiracy theory.


He is a member of the B20 - the economic policy group of the International Chamber of Commerce, and the World Economic Forum. He has previously worked at a private company where he served as the chief economist and financial adviser to businessman Eduardo Eurnekian.


He has also written several books and has a notable presence on television. He has previously hosted his own radio show 'Demoliendo mitos' that features politicians, economists, and businessmen.