Even though, Canada has been witnessing growing Anti Hindu incidents and some 'Canadian Citizens', rightly mentioned Khalistani Terrorists are openly threatening India and Hindus, Canadian Prime Minister Justine Trudeau just like his father has intentionally ignored the atrocities just to appease its " political Better Half" Jagmeet Singh.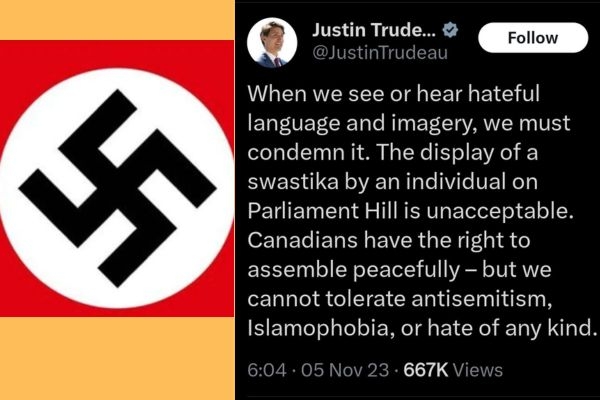 Amid Canada's worsening ties with India which is pouring billions of dollars into Canada's economy, Khalistan's puppet has yet tried to Hurt Hindu sentiments by calling the "Hakenkreuz", a 20th-century Nazi symbol of hate, "Swastika", an ancient and auspicious symbol for Hindus adding Canada will not tolerate any kind of 'Islamophobia'.
Reacting about the incident, Justin Trudeau said, "When we see or hear hateful language and imagery, we must condemn it. The display of a swastika by an individual on Parliament Hill is unacceptable. Canadians have the right to assemble peacefully – but we cannot tolerate antisemitism, Islamophobia, or hate of any kind."
It is very interesting to see that he cannot tolerate antisemitism and Islamophobia, but cannot utter a word about intensifying attacks on the Hindus and Hindu temple and continues to provide a haven to the 'Khalistanis', even though Indian students have significantly impacted the Canadian economy, contributing US$ 4.9 billion in 2021.
Trudeau's recent statement, where he equated the Nazi symbol of hate, the "Hakenkreuz," with the Hindu Swastika, has drawn criticism and accusations of spreading divisiveness.
It should be noted that this is not the first time that Justin Trudeau has referred Swastika to Hakenkreuz.
Honoured Nazi Solider involved in Jewish Holocaust
It should be worth to be mentioned that the Canadian PM's sympathy for the Jew people comes days after the Canadian Parliament honoured a Nazi army general, Yaroslav Hunka who served in a Nazi military unit during World
War 2 and was involved in the Jewish Holocaust.
On 9 September, Canadian lawmakers gave a standing ovation to 98-year-old Yaroslav Hunka who fought in the 14th Waffen Grenadier Division of the Nazi SS-which actively participated in the genocide of Jews. Notably, SS was the main paramilitary group under Adolf Hitler and the Nazi Party in Nazi Germany and was primarily responsible for tunning Holocaust operations. 14th SS-Volunteer Division Galicia was made up of volunteers, which means that Yaroslav Hunka joined the unit on his own will, and was not conscripted.
Funds for Palestine
Canada said Tuesday that it will continue to provide CAN$55 million ($40.5 million) development aid to Palestinians.