New Delhi, Feb 3: Hindustan Aeronautics Limited ( HAL ) has handed over the 500th Shakti 1H1 engine to the Indian Army. The indigenously manufactured engine was co developed with France's Turbomeca; Safran Helicopter Engines and is used upon Dhruv, Prachand and LUH helicopters.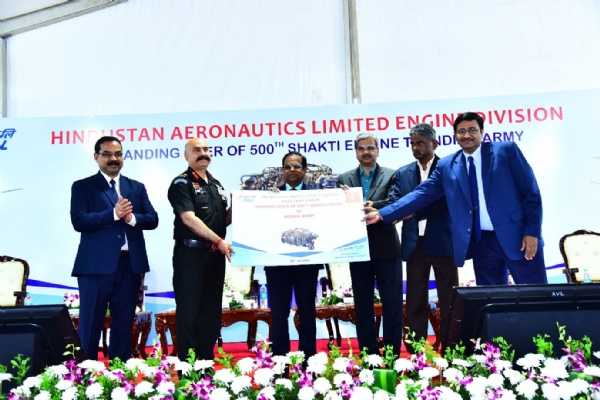 According to HAL, the Shakti 1H1 engine aims to meet high altitude operational requirement and additional payload capacity. The idea was conceived as an engine with higher power than TM333-2B2 was required for certain variants of Dhruv. Thus, Turbomeca and HAL co-developed an engine named Shakti 1H1 (Ardiden) that met the above requirements.
The indigenously developed Shakti 1H1 Turbo shaft engine features with an annular air intake, two-stage centrifugal compressor driven by a single-stage gas generator turbine, reverse flow combustion chamber, two-stage free power turbine with a through shaft driving the reduction gear box unit and Dual channel FADEC (Full Authority Digital Engine Control).
HAL's responsibilities for the project included rotor dynamic analysis, casing design, static parts stress analysis, HMU system design and electrical harness system. Additionally HAL was also responsible for the design, development, certification and manufacture of the oil cooling system, oil pump, filter unit assembly pipelines and brackets. Besides, the Shakti Engine also powers LCH (Light Combat Helicopter).