Congress leader Rahul Gandhi's UK tour has sparked a lot of controversies and now London-based CEO Malini Nehra is in the news as she asked a question to Rahul Gandhi during the Chatham House interaction and the video of that event has now gone viral. Malini Mehra is receiving both praise and criticism for her remarks on India. However, the praises will not last long after this article!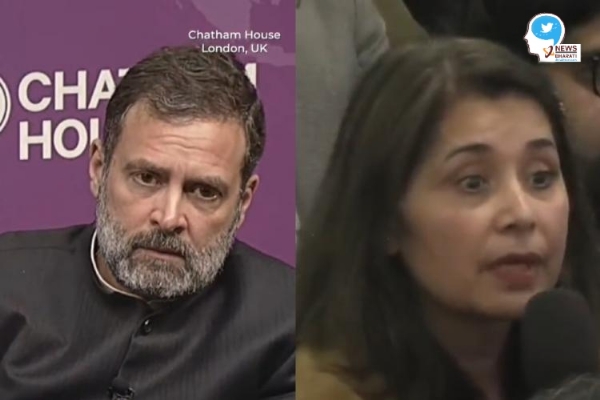 "I am feeling wretched about the condition of my country. My father was an RSS man, proudly so; he would not recognize the country, bless his soul. How can we engage, re-empower our democracy," Malini Mehra said to Rahul Gandhi during the interaction. She had identified herself as an Indian citizen. She claimed that she is one among millions of Indians who are unable to recognize the country they were born into. Is that a good thing or a bad thing?" Rahul Gandhi said. "What do you think? Why am I here today? I am feeling wretched..."
"When you express yourself, what you said about your father being in the RSS and about him not recognising the country, this conversation itself is a very powerful thing. Because for you to say this, it has a different impact," Rahul Gandhi said. Further, he said: "...By telling people the values that you stand for, the values that are Indian and that you protect, by telling everybody in the rest of the world that India needs to go back to those values...so thank you. It is the duty of every Indian, everywhere in the world, to speak up for India's core values and protect our beloved democracy," Rahul Gandhi wrote sharing the video.
However, there was a time when this RSS man's daughter criticized her own father. It should be noted that her father has passed away. According to the order of the High Court in
Malini Mehra vs Delhi Government case
, it is known that Malini Mehra's father Madho Lal Mehra had breathed his last on March 2, 2011.
Prior to this, according to t
he Guardian article published in 2003
, her father was denounced by his daughter. Speaking about her father, Malini Mehra was quoted as saying, "He has a history of misrepresentation. He is in no position to lecture anybody about integrity or governance."
Apart from this, there is no proof that her father is associated with RSS. Her father, Dr Madhav Mehra was an IAS officer as well as a businessman. Besides, Malini Mehra has served as a Commissioner on Sustainable Development to the Mayor of London, Sadiq Khan, and is an Ambassador for London Climate Action Week.
A daughter who had criticized her father in public domain, why was there a need to remember him now after 20 years?