In a horrifying crime in Uttar Pradesh's (UP) Ghaziabad, a girl named has been brutally tortured, thrashed and beaten by her husband Yusuf in order to fulfill dowry demands. A video of her, who seems to be underage, confessing with brusies and injuries all over her body is going viral.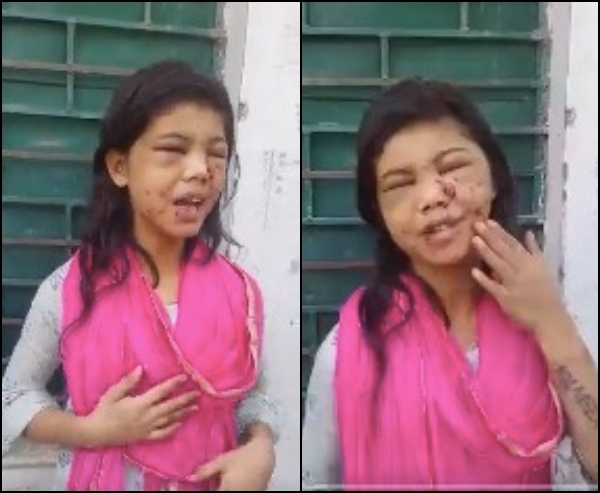 Reports suggest that Iqra's mother-in-law and husband Yusuf have been arrested while Yusuf's brothers Yameen and Sajid have also been booked by the UP Police.
Iqra was harassed for dowry and beaten badly to the extent that her whole body was scratched with nails and blades, bitten by teeth and as one can see that her eyes badly swollen.
Notably, Yusuf's family hails from Ghaziabad's Kotwali area and are employed as daily wage labourers in Delhi. The victim got married to Yusuf only three months ago by registering their marriage at the registrar's office and began living together. Soon after, Yusuf and his family began to harass his newlywed wife for dowry.
In her statement, the victim added that Yusuf started pressurizing her to enter into a relationship with his brothers. After suffering from such torture, she escaped from her in-laws' house through the roof two days ago.
She crossed the roofs of several houses and reached the roof of a government school from where she was rescued by the crowd that had gathered seeing the injured girl on the roof. Following her rescue, Iqra narrated her ordeal and based on her statement the Police registered an FIR against Yusuf, his mother Rani, and his brothers Yamin, and Sajid.
According to Ghaziabad commissionerate's Twitter handle, the Kotwali Superintendent of Police's (SP) confirmed the arrest of Yusuf and Rani while adding that Iqra was given medical treatment. The police further stated that they are investigating the matter and on the basis of their investigation further sections would be added to the case.